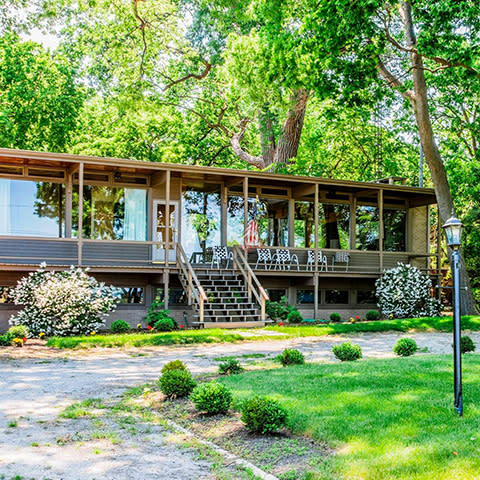 Updated June 2020

Sometimes you just need a little home away from home. When vacationing, often travelers look for accommodations with the comforts of home. Families and larger travel groups especially enjoy having space to spread out, rooms for privacy, and expanded kitchen facilities. Whether you are looking for waterfront condos, secluded cottages, or cozy cabins, Ohio's Lake Erie Shores & Islands has vacation rentals for all interests.
But how do you know what's available? There are a couple of different ways to search these types of accommodations at SHORESandISLANDS.com.
If you are unsure where you want to stay exactly, start by clicking the Stay tab at the top. On the sidebar menu, answer "I'd Love to Stay in a…" with "Vacation Rental." From here, you can also choose a neighborhood from the adjacent map, or just leave this section blank to see all vacation rentals offered. You can narrow your search even more by selecting from a menu of amenities, such as waterfront, pets permitted, etc., also found on the left side of the map.
Or, if you know what community you'd like to stay in, you can choose a community name, such as Port Clinton or Vermilion, from the drop-down menu when you click the Stay tab. Once you've selected a community, the list will populate all available accommodation types. On the left sidebar, you can choose "Vacation Rental" under the Lodging Type header, which will narrow down your options in that category. Then, once again you can narrow your search from selecting from a menu of amenities.
Looking for a truly unique vacation rental? Here are just a few of the distinctively different options we've scoped out:
Glass House, Sandusky – This waterfront vacation home close to Cedar Point was designed by an associate of Frank Lloyd Wright.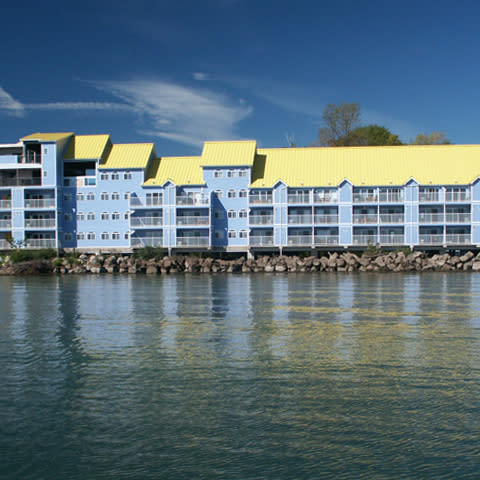 Millsite Lodge, Sandusky – Great for larger groups, stay in the farmhouse and/or converted horse stables and enjoy onsite trout fishing directly from Cold Creek.
The Lodge at Bayview, Bay View – This spacious lodge is a haven for hunting groups, fisherman, birders, or family reunions. Includes a bar and game room.
Sunnyside Tower, Catawba Island – This 11-bedroom home sits on 2 acres and sleeps 30, near Catawba Island State Park and the Miller Ferry to Put-in-Bay.
St. Hazards Resort, Middle Bass Island – Secluded cottages and waterfront condos on a quiet island. The resort offers a tropical pool area.
Milan Inn-tiques, Milan – Stay above an antique store on the quaint village square in a former historic 1845 stagecoach inn.
Coastal Floating Homes, Port Clinton – Dock at your door with these over-the-water cottages.
Kelleys Island State Park Yurts, Kelleys Island – Two premium yurts offer lakeside accommodations with canvas walls and roof, similar to a tent, but fully-furnished and with an efficiency kitchen.
All Star Ohio House, Put-in-Bay – For the die-hard Ohio State Buckeyes fan, this OSU-themed Victorian home sleeps 22 with a split floor plan and access to the Put-in-Bay Resort's pool area.
Lighthouse Point at Cedar Point, Sandusky – Private, family cabins and cottages steps away from Cedar Point and overlooking Sandusky Bay; a great respite from a day at the park.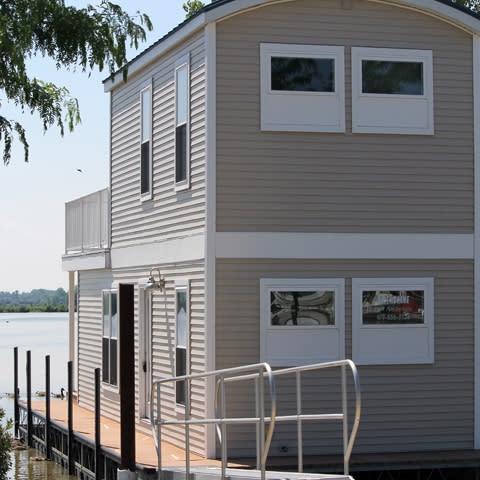 Not sure what to pack when staying in a vacation rental? Check with each individual property to see what is provided such as linens or kitchen tools. Lakeside Linen Supply makes it easy for vacation property renters in the Lakeside and Marblehead Peninsula region. They deliver sheets, bath towels, beach towels, and more direct to your rental. When it's time to go home, pack everything back into the provide laundry bag and leave it outside your door. Enjoy the convenience of packing light for your getaway!
Ready to find your perfect vacation rental? Whether you want a waterfront condo, a rustic cabin, a modern family home, or a cozy cottage, Lake Erie Shores & Islands has the home away from home for you. Search Vacation Rentals now and start coasting!