Published February 2018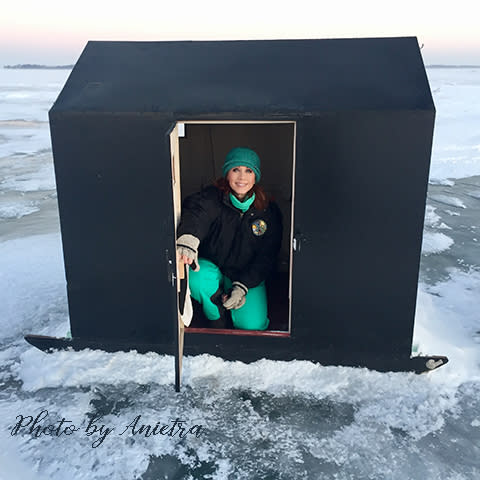 The winter scene at Put-in-Bay is a stark contrast to the buzzing summer vacation vibe when tourists converge on the island. But, that is exactly why ice anglers like it. 
As a cold snap grips the Lake Erie water around the island turning it into a bed of ice, fishing guides waste no time monitoring the depth conditions. Before long, the vast ice sheet is dotted with shanties of all sizes and colors inviting anglers to a unique kind of experience fishing for perch and walleye.
While you can find lodging in Port Clinton and make a day of ice fishing from the mainland, upping your game by flying to South Bass or Kelleys Island and heading out on a four-wheeler from there is the ultimate ice fishing experience in Lake Erie Shores and Islands.
I hop on board the Island Air Taxi in Port Clinton for a quick flight to Put-in-Bay. The quiet winter serenity isolates me in a moment of perfection showcasing Ohio's coldest season and the best fishing in the state.
The owners of the Black Squirrel Bed and Breakfast welcome me like family and settle me into a comfortable room that will be my base for a few days. The B&B caters to anglers who start the days hungry and return exhausted and excited about upping their fishing game on the Lake Erie ice. I immediately feel as if I am part a small club sharing a unique experience – a kind of secret that only those who do it can understand. The only people on the island are locals and ice anglers so there is a tight and welcoming kinship everywhere I go whether it is at the B&B, on the ice or sharing a seat in the only taxi on the island in winter driven by "Larry" who connects with everyone on a first-name basis.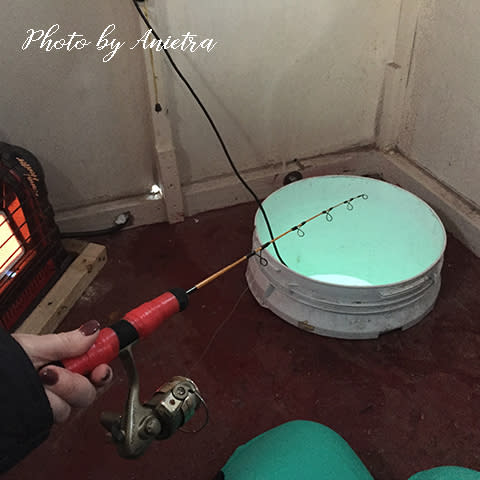 When morning breaks, I head out onto the 10-ince base of ice with Shawn Dages and Jeff Bast of Put-in-Bay Ice Guide. The sharp gusts of wind offer a physical imprint of what I know will be an experience that I will never forget. We arrive to a small grouping of shanties that create a make-shift ice fishing community. I am set up in a single shanty but there are others that accommodate more people who are traveling together. My pre-heated shanty with a small heater in the corner is comfortable. My guide shows me how to set up my equipment, explains ice and water conditions and details the techniques that I will use to fish for perch and walleye from the depths of my carved hole in the ice.
During the course of 11-hours I catch eight perch and a walleye. I use a small electronic machine that monitors the depth of my bait and any fish activity on the bottom of the lake. In between catches I peek through my brick-sized shanty windows to watch the howling winds blow snow across the ice in a beautiful and rhythmic way creating patterns in the drifts. The time goes by quickly with the excitement of catching fish and pondering the delicious fish fry that this will make after I go home.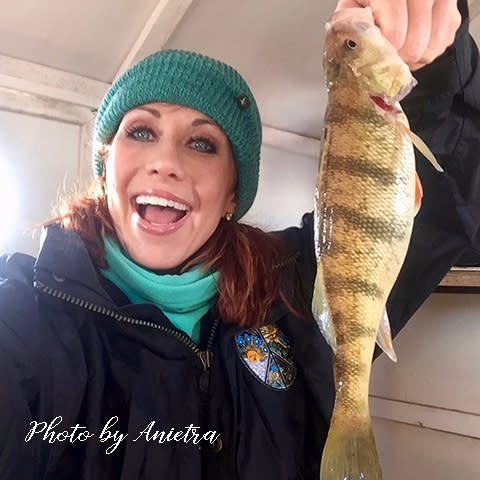 As the sun begins to set on the horizon the anglers in our group are ready for a hot meal at Tipper's Restaurant and a warm bed for a good night's rest. I sit down to enjoy two cups of coco and a perch basket for dinner reflecting on the perfect day of ice fishing and smile as I overhear other anglers sharing stories of great catches and the ones that got away.
Yes, you can hit the ice from the mainland to fish for Lake Erie perch and walleye, but going the extra step to do it from the isolated island takes the experience to a new level. All anglers should do this at least once in their lifetime.
Tip: Be sure to get your Ohio fishing license from the Ohio Department of Natural Resources and get reputable fishing guide and lodging information from Ohio's Lake Erie Shores & Islands.