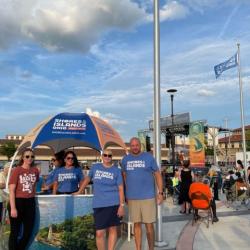 With the impressive Lake Erie coastline and a remarkable array of seasonal attractions, summer is when Shores & Islands Ohio shines! Tour wineries, hike nature preserves, play mini golf, shop 'til you drop, or get your fill of tasty eats on the islands. Family-fun attractions and outdoor water parks will keep all ages entertained, or explore the shore at a number of beaches. Whatever your trip entails, be sure to check out the concerts, local events, food festivals, and more that make a getaway perfect. Here are the major events taking place in July in August:
Party at the Pier
Thursdays, Jul 6, 13, 20, Aug 3, 17, 24, 31, 2023
Jackson Street Pier, Sandusky
The city of Sandusky's "Party at the Pier" summer concert series returns on the Jackson Street Pier. These free concerts take place every Thursday evening at 7:30 pm with food trucks and live music. Bands include tributes to Santana, Journey, Fleetwood Mac, and Pearl Jam, along with local favorites performing a variety of genres.
Civilian Marksmanship Program National Matches
Friday, Jul 7, 2023 – August 5, 2023
Camp Perry, Port Clinton
Held annually, the National Matches include the CMP National Trophy Pistol and Rifle Matches, the Pistol and Rifle Small Arms Firing Schools, the National Games Rifle Matches, the National Smallbore Matches and the National Long-Range Matches. Since their inception, the National Matches have become a huge, national shooting sports festival with well over 4,500 annual participants. Competitors range from beginners to many of the world's best.
Huron River Fest
Friday-Sunday, Jul 7-9, 2023
Huron Boat Basin and Amphitheater, Huron
The Huron River Fest is back this year with amazing entertainment, a 5k race/fun run, pets on the pier, Queen's competition, a variety of unique vendors, a road show, the wonderful parade, fantastic fireworks, and much more! It's a can't miss tradition of Summertime fun!
All Washed Up: Vermilion's Driftwood Art Contest
Saturday, Jul 8, 2023
Exchange Park, Vermilion
Driftwood creations draw a crowd who enjoying the creativity of amateur artists and skilled craftsmen. Entries are created primarily of driftwood and (other washed-up items) collected from the shores of Lake Erie. It's surprising that this amazing natural resource, abundant on local beaches, brings out the talent in so many but it certainly does!
Apricot Festival
Saturday, Jul 8, 2023
Twin Oast Brewing Company, Catawba
Apricot Fest is the perfect summer outing for the entire family! Shop their vendor market, listen to live music, sip on a quenching Apricatawba, enjoy tasty food from various food trucks, run in the Apritrot race, let the kiddos hang out at the kid zone, and make memories that will last a lifetime!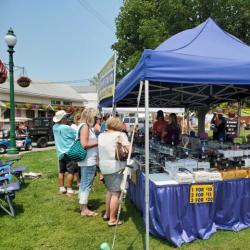 Kelleys IslandFest
Friday-Sunday, Jul 14-16, 2023
Memorial Park, Kelleys Island
Kelleys Island biggest event of the year! The festival features craft vendors, food, beer tent, music and a street dance on Fri and Sat night. A parade on Sat morning with fireworks at dusk. Fun activities for the entire family. This is an outdoor event.
20th Annual Lakeside Wooden Boat Show & Plein Air Art Festival
Friday-Sunday, Jul 14-16, 2023 (Boats on Sunday only)
Lakeside Chautauqua, Marblehead
Fun for the whole family, celebrate the exquisite craftsmanship of traditional wooden boatbuilding and the artistic expression of plein air painting at one of Lakeside's most unique weekends of the summer. As one of Lake Erie's largest wooden boat exhibits, more than 60 cruisers will line the dock and lawn of the Hotel Lakeside for an up-close and personal view of classic boats. Learn about the world of wooden boatbuilding from boat owners, restoration experts and boat enthusiasts alike. Watch as painters add finishing touches to their masterpieces at the Plein Air Paintout, held along the shoreline. Paintings that were completed by artists throughout the weekend will be available for purchase during the Wet Paint Sale. Back by popular demand, Wally & The Beavs returns with live music.
2023 Military Vehicle Show & Swap Meet
Saturday-Sunday, Jul 15-16, 2023
Liberty Aviation Museum, Port Clinton
Military Vehicle & Equipment Displays at Liberty Aviation Museum & Tin Goose Diner. Military vehicle parts, tools, supplies, unique militaria, toys, uniforms, & more will be permitted for sale/trade. Army Aviation Heritage Foundation's Vietnam era Huey helicopter & Cobra Helicopter will be out offering rides both days!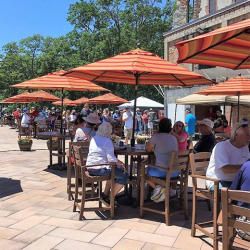 Middle Bass Island Music Festival
Saturday, Jul 15, 2023
Middle Bass Island State Park, Middle Bass Island
Take the Miller Ferry from Catawba to Middle Bass Island for this one-of-a-kind festival at the historic Lonz Winery Park. Enjoy live music with a Lake Erie view. There will be artist demonstrations, Jimmy G's BBQ and Rose's Rolling Food Trucks, adult beverages from Catawba Island Brewing Company and Heineman's Winery. Admission is free and all are welcome. Playing: The North Coast Goats, The Good the Bad and the Blues, The Ark Band, and Cats on Holiday. This event is rain or shine. There are three tents, pavilion & the Island Grind to keep you dry.
Kelleys Island Film Fest
Saturday-Sunday, Jul 22-23, 2023
Kelleys Island Ball Field, Kelleys Island
Relax outdoors at the ball field to watch popular box office movies, drive-in style, free of charge, in front of a large inflatable screen. The outdoor movies begin with an early movie at dusk and another late night to follow. If the weather effects the outside viewings, there will be showings at Town Hall located downtown Kelleys Island on Division St. Snacks and drinks will be for sale during all showtimes.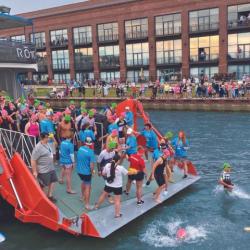 IRONMAN 70.3 Ohio
Sunday, Jul 23, 2023
Jackson Street Pier, Sandusky
Travel to the City of Sandusky for IRONMAN 70.3 Ohio! Sandusky embodies the excitement of race weekend felt from the very first time you visit, to becoming a seasoned regular part of the welcoming community. In your summer coastal escape you will find unforgettable experiences in Shores & Islands Ohio. Join us for an invigorating ferry swim start as you leap into Lake Erie for a 1.2-mile swim, a fast-flat 56-mile bike through Erie County farmland roads, and a 13.1-mile run through historic downtown Sandusky. All this while being surrounded by spectators in this exciting coastal destination.
Amphicar Days
Monday-Tuesday, Jul 31-Aug 1, 2023
Put-in-Bay
Put-in-Bay invites everyone to come and see a gathering of these rare 1960s swimming sports cars!
Vermilion Beach Market
Friday-Saturday, Aug 4-5, 2023
Sherod Park, Vermilion
Shop by the beach from over 90 vendors for vintage, shabby and chic decor including furniture, architectural salvage, as well as handcrafted home decor, jewelry, clothing, and art. Take a pause from shopping at our beachside wine bar and food booths. Free admission and free on-site parking.
30th Annual Classic Car Show
Saturday, Aug 5, 2023
Downtown Port Clinton
The Chamber's Classic Car Show is held the first Saturday in August each year. Cars, trucks and bikes from virtually every era and every make will be on display on Madison Street in Downtown Port Clinton. Proud owners will be polishing their vehicles and waxing eloquently about the history and renovations of their unique vehicles. DJ will be playing your favorites.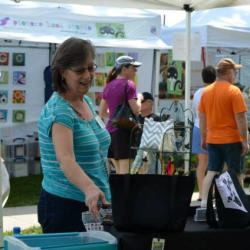 Arts in the Park
Saturday-Sunday, Aug 5-6, 2023
Lakeview Park, Port Clinton
Ottawa County's premiere festival hosts more than 100 artists from around the Midwest and beyond to display and sell their original art for two fun-filled days. The festival is free to the public, and also includes a Children's Make and Take, entertainment, and a delicious offering of food, including Lake Erie perch.
Island Green Week 2023
Saturday-Saturday, Aug 5-12, 2023
Middle Bass Island and Put-in-Bay
A celebration of natural beauty, ecology, and history. The Lake Erie Islands are a breathtaking destination, with opportunities to see utterly amazing parts of nature, history, and culture. The Lake Erie Islands Nature & Wildlife Center, Lake Erie Islands Conservancy, OSU's Stone Laboratory, and Put-in-Bay Township Park District will produce an array of events to support and highlight our islands Natural, Historical, and Cultural Resources. Through these events we hope to educate and interpret our resources so that they may be used and loved for many years to come. You will never regret a "A Natural Island Experience." All events are family friendly, inclusive, and accessible.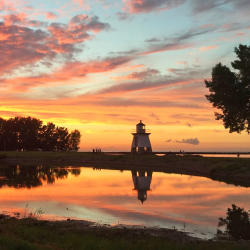 Port Clinton Lighthouse & Maritime Festival
Saturday, Aug 19, 2023
Water Works Park, Port Clinton
Come and celebrate with the annual Port Clinton Lighthouse & Maritime Festival! It's sure to be a good time with nautical-themed vendors, music, food, a plein art show, an antique and classic wooden boat show and nautical flea market, activities for the kids, and free tours of the lighthouse!
Bash on the Bay 2023
Wednesday-Thursday, Aug 23-24, 2023
Put-in-Bay Airport, Put-in-Bay
Bash on the Bay returns to Put-in-Bay with iconic Latin musician, Pitbull and country superstar, Luke Bryan headlining the two-day music festival that takes place at the Put-in-Bay Airport! August 23rd lineup: Pitbull, Elle King, Filmore, Ashland Craft, Kaylyn Pace. August 24th lineup: Luke Bryan, Brothers Osborne, Dylan Scott, Adam Doleac, Cory Farley.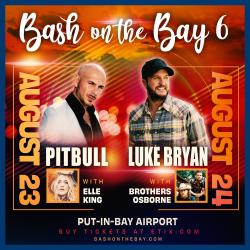 Marblehead Lions Perch Festival
Saturday, Aug 26, 2023
James Park, Marblehead
The Lakeside Marblehead Lion's Club invites everyone to join them at their Annual Perch Festival on Saturday, August 26 in James Park! The parade begins at 10 am, with plenty of food, kids' games, a car show and plenty more fun to follow!
And since Labor Day Weekend is right around the corner, we don't want you to miss these signature area events!
Perch, Peach, Pierogi & Polka Festival
Friday-Sunday, Sep 1-3, 2023
Knights of Columbus, Port Clinton
The Knights of Columbus & Immaculate Conception Catholic Church invites everyone as perch sandwiches and dinners will be served along with pierogies and delicious peach pie with Toft's ice cream. Polish sausage sandwiches will also be available. Soft drinks, adult beverages and ice-cold beer will be sold in the beer tent. All food items are available for carryout. A weekend of entertainment is also planned. Featuring Appearances By:
Frank Moravcik, Culkar Band, Eddie Rodick Orchestra, Del Sinchak Orchestra, and Duane Malinowski. Polka Lessons Sat & Sun 4-5 pm
Milan Melon Festival
Saturday-Monday, Sept 2-4, 2023
Village Square, Milan
Held on Labor Day weekend since 1958, this community celebration commemorates the harvest of the local melon! Live entertainment, food trucks, games, and carnival rides, plus grand parade and world-famous Toft's Watermelon Sherbet and Muskmelon Ice Cream!
As always, you can find entertaining events, live concerts, local festivals, and more at SHORESandISLANDS.com/events.