Go back 27 years, October 31st, 1990, in Sandusky, Ohio. I was seven years old, my sister and I watched my mom pass out candy to trick-or-treaters in our neighborhood. My dad, dressed as a monster, would sit motionless on a bale of straw, as Elvira (my mom) passed out candy. All he had to do was stand up. The rest was history. He loved Halloween and especially watching trick-or-treaters go into a running sprint because they didn't expect a good scare!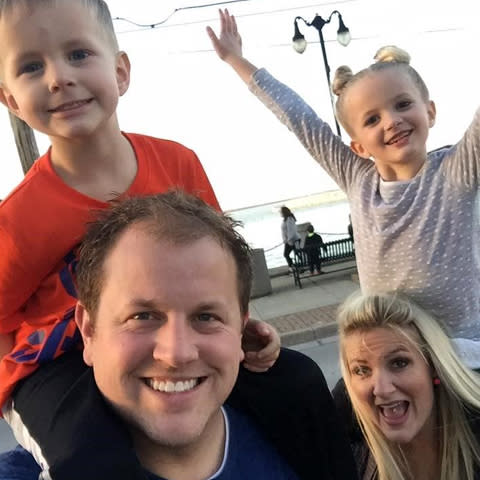 The Halloween tradition continued to grow for our family until my dad, Bill (who ran the former Huron Pillsbury grain elevator by day) turned our home into a haunted house attraction for our neighborhood friends and local trick-or-treaters. I went to school the next day and all of my friends were raving about how much fun our house was. We knew my dad was full of ideas and enjoyed giving a good scare but what we didn't know was how far he would take it. Luckily for him, my mom is a go-with-the-flow, fun-loving woman who always supports my dad. 

In 2000, when I was a senior at Perkins High School, my dad made a surprise announcement. He bought a 27,000 square foot building (formerly called "Skateworld") that would serve as the new location for the haunted house. I think deep down my mom was excited that the haunted house would no longer be in our home but shocked that my dad had made such a large purchase for a hobby of his. While my sister and I went off to college and created families of our own, my mom took over marketing the new family business which featured Ghostly Manor Haunted House, a skating rink and an XD 4D Motion Theater at the time.

In 2011, I left my medical sales job in Chicago and moved back home to Sandusky, Ohio, with my wife, Laura (a Florida native), to run the business for my family. During that time we expanded the building to 36,000 square feet, added a bounce house attraction, 3-level jungle gym, a larger arcade and indoor blacklight mini golf.
I always knew that at some point in my life I wanted to move back home to the Lake Erie Shores and Islands because of the small-town, family oriented feel this area has. Together with my parents and my wife, we grew the business and our family. We not only have one of "America's Top 20 Haunted Houses" (USA Today 2016) but we have created a place for families to come all year long, and attractions for children of all ages to enjoy at a family-friendly price. Our own kids inspired us to create a "jump, climb and skate pass" where for $11, children can enjoy the bounce houses, jungle-gym and skating rink for as long as they'd like. And for our local community we have "family fun night" on Wednesday's while the kids are in school. This special includes that same pass, pizza and a drink for only $5. In December, even Santa Claus stops by for a visit with the kids! We want to give back to the community that we love and our goal is to give families a fun, safe environment to create happy memories.

In 2012, we merged Ghostly Manor Haunted House with 4 additional haunted houses...Lake Eerie Fearfest was born. The haunted houses have been recognized by the likes of The Travel Channel, Forbes, USA Today and Haunted Attraction Magazine. This year we added a new haunted trail to the attraction and made it easy for guests to buy tickets online at LakeEERIEfearfest.com.

Laura and I have two children. Molly is in 1st grade at Sandusky Central Catholic (she's great on roller skates and loves the giant animated Troll at Lake Eerie Fearfest) and William is in Pre-K (he is a "professional" at winning prizes from the "claw" arcade game). Our kids have spent a lot of their childhood at our family entertainment center while "mom and dad" work. We even added a new escape room and a laser maze this year!  

In the summer, our family's favorite pastime is taking the Jet Express over to Kelleys Island.  We rent tandem bikes or a golf cart and enjoy hours of fun playing board games at the KI Winery & Cantina, mini golf at Caddyshack and sometimes our excursions include camping on the island in a tent and enjoying the state park and beach on the island.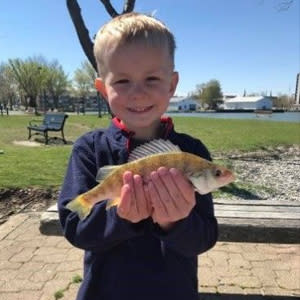 Our family also loves spending the weekends in downtown Sandusky, enjoying amazing restaurants including Zinc Brasserie, Small City Tap House, Moseley's Rooftop, Dockside on the water, fishing and swimming at the Sandusky Yacht Club! In the fall we love visiting Quarry Hill Orchards, making life-size scarecrows at Burnham Fall Festival, and picking pumpkins at Bergman's Market.  

Between Laura and me, we have lived in so many regions (from Texas to Florida to Chicago) and we truly feel blessed to be a part of the Lake Eerie Shores & Islands family. We spend our life enjoying our family near and far, our amazing friends, growing our entertainment center and supporting local causes such as The Foundation for Firelands (which helps hospital patients during their time of need) as well as The Boys & Girls Club of Erie County (giving children a safe educational environment after school) and our local schools (including Sandusky Central Catholic).

I forgot to mention… at our family entertainment center, Ghostly Manor Thrill Center, we host birthday parties and if you are from around town, your kids can have a birthday with us and enjoy our awesome birthday attractions. Even our own kids, nieces and nephews and friends beg to come to Ghostly Manor for their birthday. We make it easy and do the work you, from providing complimentary invites, doing the cooking and cleaning to our simple online booking at ghostlymanor.com.