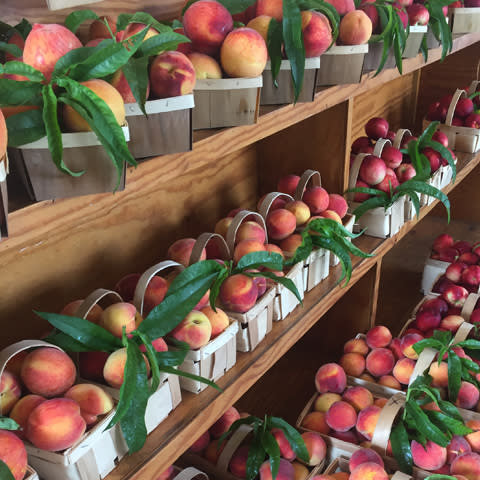 Relationship-driven.  Quality-focused.  Family-centric.  If you're a regular at Quarry Hill Orchards, you're probably a regular because of the authentic atmosphere, fresh (and delicious!) fruit, engaging conversation, memorable experiences, good people, oh, and the friendly golden retrievers and cute babies.  A typical day on the farm includes some combination of the Gammie Family onsite managing the day-to-day operations of the business: slicing a ripe peach for a customer; driving a wagon full of first graders around the orchard; directing the crew which apple orchard needs thinning; inspecting a load of peaches on their way to a Cleveland grocer; or swapping produce with a local vegetable producer. 
This summer, my presence at the barn has included my three darlings (Payton 6 ½, Henry 5, and Beatrice 8 months).  We work as a team, as a family: Payton has become an expert at "decorating" the baskets of fruit with fresh leaf cuttings; Henry eagerly helps carry bags of blueberries, apricots, and peaches out to customers cars (he's been getting a few tips recently which he uses to buy peach fritters); Beatrice is either riding in her Daddy's backpack carrier, or is playing in the arms of one of our regulars.  My husband may work from sun-up to sun-down every day this time of year, but we get to spend that time together, working together as a family…a lifestyle that was 100% created on purpose.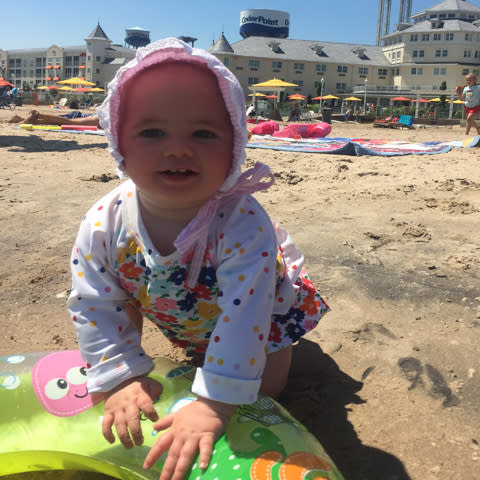 During our income generating time of year, it's critical we prioritize this day-to-day management of our business.  Hence, our family schedule is dictated primarily by the needs of the business and our off-farm activities like dinner hour, nap time, birthday parties, house chores are always scheduled around these needs.  As a Mom, my role in helping run the business has been crafted entirely by my children's needs, yet influenced by my strengths and passions.  It's a daily balancing act between Motherhood and managing the back office.  Returning phone calls while we're driving to Catawba for swim lessons;  logging hours behind Quickbooks while the kids are napping; updating cash flow spreadsheets while a neighborhood babysitter takes them to the Old Fish House for ice cream; packing up the tribe for a trip to Sandusky to pick up payroll; writing grant reports while they attend a day camp; scheduling nap time to facilitate a late dinner when Dad comes home; making Put-in-Bay plans to the Butterfly House on a Tuesday because we're at the barn on Saturdays. 
"Work hard, play hard" is one of our family mottos.  When it's time to play, we play hard, and don't have to travel far to do that.  Going to Dinosaurs Alive and exploring Hotel Breakers and swimming at Cedar Point Beach made a perfect birthday party for our five year old.  Watching fireworks from a friend's back porch during the Huron River Fest, seeing Payton learn how to canoe for the first time in the Huron River thanks to the amazing nature camps hosted by Erie MetroParks, double date night with my parents at the Culinary Vegetable Institute, and beach glass hunting on Kelleys Island are just a few highlights of our playtime.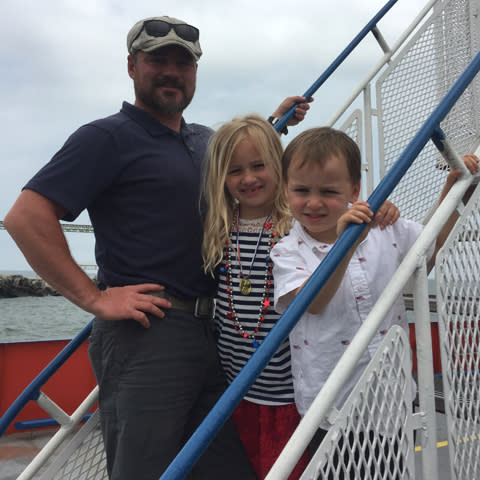 The summer memories we're making here are one that I will treasure, and cherish forever – I know this time as their playmate is fleeting, and the dirty dishes, the piles of laundry, and the messy chaos are things that will be easily forgotton……Thank you LESI for this lakeside playground that gives our family so much opportunity to make this summer one we'll always remember.  
This guest post is provided by Brooke Gammie, local mom of three, who operates Quarry Hill Orchards along with her family.  She and husband Ben are 3rd Generation Farmers (she's the office manager, he's the farm and sales manager) and work together with Ben's parents, owners Bill and Jacque Gammie.  Visit quarryhillorchards.com to learn more about the Gammie's and their family farm.