Published May 2018
Lake Erie Shores & Islands recently chatted with Jackie Finger, owner of several businesses on Kelleys Island including the Village Pump, to learn more about the restaurant and to see what she loves most about the region.
LES&I: What is your connection to the Lake Erie Shores & Islands region – are you from here originally or did something bring you here?
Jackie: My husband Gary's brother came to Kelleys Island in the 1970s and started the Finger Family migration to the island. My Step-Grandmother Lydia Bechtel was a born and raised Kelleys Islander. My Grandfather was Ron Bechtel that owned Bechtel-McGlaughlin in Sandusky, Ohio. My family came to Kelleys Island to visit starting in the early 1980s. Gary and I moved to the island permanently in 1983 to take over the Village Pump, after only being married a year.
LES&I: What are some popular menu items at your restaurant?
Jackie: We try to still carry on favorite Village Pump traditions that were already in place in 1983 upon our ownership. I learned to make the famous Village Pump tartar sauce, Brandy Alexander's,  and fresh Lake Erie Perch to name a few. 
LES&I: What makes your Brandy Alexander different than most?
Jackie: We do not skimp! Our Brandy Alexander is packed with vanilla  ice cream and made with love...the Pump way.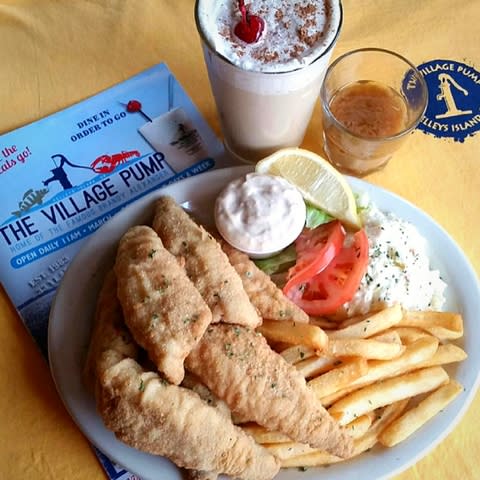 LES&I: Walleye or Perch? Which do you prefer to eat?
Jackie: Walleye is a thicker, larger white meat fish; perch is a butterfly, small, thin white meat fish. They are both GREAT!
LES&I: What are your other island businesses and why did you decide to branch out from the restaurant business?
Jackie: We recently sold our island rentals that we managed and rented for 25 years due to having too much on our plates and our age. I started The Village Peddler retail store in 1985 after so many visiting boaters needed dry cloths, socks, t-shirts, etc. after falling in the lake or boating or weather issues while on the island. The original location is now home to The Island Fudge Shop and Chicklet's Closet retail and gift store. After successfully operating The Village Peddler clothing store at that location through 2015, Gary and I decided to move to a new location, the former Island Tee's building also known as the Dr.'s House. After one season in the new location we added on The Island Flea in the garage located behind the building. Then I added a couple of small buildings and a sale building. There we house 2 Hippies Dy'n run by Leiza Oakes Davis with hand-made tie dye items. Last summer we added KI T Shirt Shack.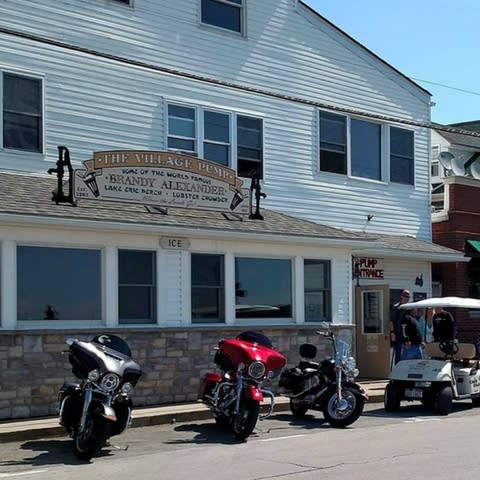 LES&I: What are some of your favorite local restaurants?
Jackie: We don't get off the island much, so some of our favorite restaurants include: The Caddy Shack, The Island House Restaurant, and Docker's.
LES&I: What is your favorite thing about living and working on Kelleys Island? How about the Lake Erie Shores & Islands region in general? 
Jackie: Our lives are richer for living and sharing our lives on Lake Erie and on Kelleys Island. Just yesterday I looked around as said, "Wow is this just not beautiful here?"
Our business lives are rich, but hard. Being a seasonal business and located on an island logistically is just difficult, but the people, friends, and customers we have made along the way have been and are priceless!
LES&I: What is your favorite annual area festival or event? 
Jackie: They are all good! I help run or manage most of them here on the island. Our Islandfest is the biggest and most comprehensive event of the summer season. This year we are trying to reinvent it a bit and bring new ideas and vendors to the three day festival.
LES&I: If you had friends visiting from out-of-town, where are some of the places or attractions you'd want to make sure you showed them?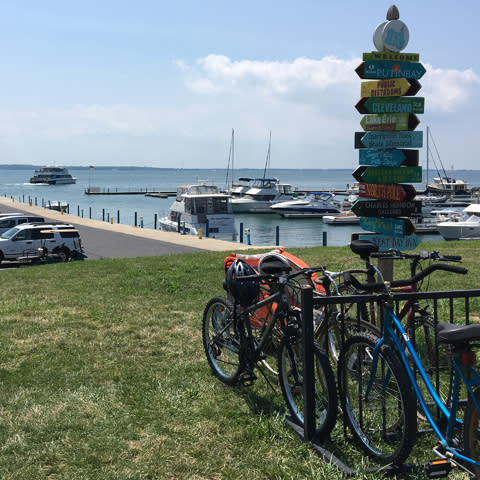 Jackie: I, of course, would suggest every business on Kelleys Island! But I would also want them to go to Cedar Point, Put-in-Bay, Lakeside, and Marblehead. I would also suggest a ride on the Jet Express and that they visit our numerous parks and recreational opportunities in the area.
LES&I: Any final recommendations on how to enjoy Lake Erie "like a local"?
Jackie: Talk to the locals; come into our Kelleys Island Chamber of Commerce information office for great island tips. Come visit The Village Pump - we serve good food, we have friendly staff, we have a kid-friendly menu and atmosphere, and we treat customers as family. We try to help anyone with any question, concern, or problem at any time of the day or night; just ask!
About Jackie: 
Gary and I welcome you to The Village Pump, The Village Peddler, The Island Flea and Kelleys Island! We love our business, our employees and our Pump family. We hope you stop by to visit us this summer…Pump on!!