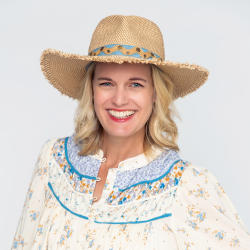 Meet Brooke Gammie, matriarch of #GamFam6 and one of the proprietors of Quarry Hill Orchards and Quarry Hill Winery in beautiful Berlin Heights, Ohio.
S&IO: Tell us about your family history in relation to Berlin Heights and the fruit-farming industry. As a multi-generational business, what generation started the business and who is still involved today?
Brooke: My husband, Ben, grew up across the street from the Market Barn in the farm house (the same house his Dad grew up in); his blood runs deep with farm life (I'm still learning). It was Ben's paternal grandfather (William Gladstone Gammie) and Ben's Great Uncle (Alex) who started farming cabbage and tomatoes on our ground back in the 1930s. This is what we call the farm's first generation. 
The second generation came along with Ben's Dad, William Dinan Gammie, or "Bill" who everyone knows as the welcoming face at the Market Barn, with a cup of cider in his hand for you. Bill left his teaching career to transition the farm from vegetable production into fruit production during the 1970s and 1980s.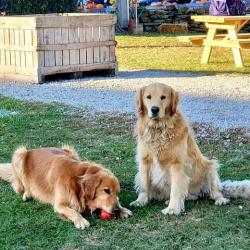 Then, the third generation, well, that's me and Ben! We ALSO left separate careers (we both were practicing Professional Civil Engineers in Austin, Texas) and returned to the farm for the harvest of 2013. Today, you'll see three generations of Gammies running around the orchard. Bill, Ben, and now our four children Payton, Henry, Beatrice, and Tucker = the fourth gen! Don't forget we're also into our fourth generation of golden retrievers too! Walter and Hudson lead the charge today, but we remember Rudy, London, Webster, and PJ.
I was born and raised in Phoenix, Arizona – yes, I'm a city girl from the desert who transplanted here when my oldest kids were one and three years old (about eight years ago). I knew Ben was a package deal when we started dating, and I made the decision to live in Ohio at Quarry Hill Orchards a LONG time ago. 
S&IO: What fruits do you grow in your orchards and what are the seasons in which each is available/fresh at the market? Which is your favorite produce season and why?
Brooke: We grow sweet cherries, red raspberries, and black raspberries that kick-off our summer harvest around mid to late-June (Make a cherry pie for the 4th of July!). Later in the summer, we welcome a large crop of peaches (Take a peach to the beach!), with freestone peaches (Red Havens) ripening in early August. First white peaches, nectarines, and early apples (Lodi) are close behind just before Labor Day (late-summer), then we start to see first pressings of cider and Honeycrisp, plums, and pears in early September (autumn season).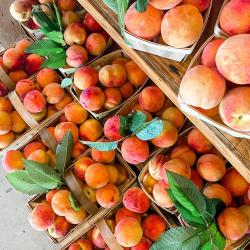 Then, we really hit it hard with our apple harvest during the fall season, along with some specialty pumpkins, and edible squashes, and gourds. The best way to learn about seasonal availability is to subscribe to our annual summer newsletter. Folks LOVE this and, it's a pretty big Quarry Hill tradition. Bill has been sending this letter each summer for nearly 40 years! 
My favorite produce season is August. The weather is HOT (remember, I'm from the desert), the daylight is long, the peaches are juicy, the kids' hands are stained with raspberry juice, the orchard has a sense of calm (before the storm), and Gator rides to the quarry for a dip on a hot day with Ben and the kids are most definitely one of my favorite things to do on the farm. 
S&IO: What makes your orchard unique from other orchards and farm markets in the region?
Brooke: Growing fruit is no easy street. I have enormous respect for the other orchards and farm markets that still call fruit-growing a career. Because farming is a lifestyle, each farm market has its own personality that really just reflects the family that's running it. I like to think here at Quarry Hill, you're just part of our larger family. We are the Gammies, gracious hosts who welcome you into our farm so you can truly enjoy an authentic slice of the rural life we know. We let the quiet peace of the orchard, the company of our farm pups, the wholesome tastes of our fresh fruit, the engaging conversations with our family (all three generations), and the unique destination of our timber-framed Market Barn provide you with a memorable experience. Our Market Barn also offers our patrons a breadth of fresh produce and products with a depth of seasonal flavors.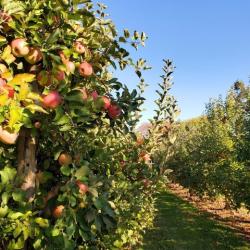 During a visit, you can expect to try our delicious fruit, purchase local produce, sip warm cider, meet our family and friendly golden retrievers, visit our winery, and pick your own fruit. You can also shop our diverse selection of elevated and carefully-curated local products and provisions crafted by our community and, hopefully, purchase a cone of our real fruit ice cream (coming in 2022!)  
S&IO: Tell us about your community involvement.
Brooke: When we're not pressed to get fruit off the trees, we make it a priority to engage with and support our community. Whether that's the local village of Berlin Heights that we call home or, our larger reach into the greater Cleveland area and beyond. I like to think we support in our efforts to host educational farm tours during harvest (we show hundreds of preschool through elementary-age kids around the farm each year); our off-season apple taste tests and meet the farmer days at schools; seasonal events we plan and host that are free to the public; apple and cider donations to area non-profits, libraries, and other community partners; and our time donated in leadership capacities to coaching baseball (Ben), being a Cub Scout Den Leader (Brooke), attending church, and serving and leading on many industry boards (Ohio Apples, Fresh Forward, and Feed our Future, to name a few). 
S&IO: How can customers from outside the area purchase your products?
Brooke: We have an online store where we ship our fruit all over the country! The bulk of our shipping is during the holidays (late-November through December) where you can send our farm-fresh apples to your loved ones during the holidays. One of my very first projects here at the farm was to create a way to share the harvest with my family and friends back in Arizona and Texas. Ben and I wanted to create a very beautiful, sustainable, quality way of shipping our fruit. The crates, boxes, packaging, etc. have all been very thoughtfully and beautifully designed. The best way to access our online store is via our "Link in Bio" on our Instagram Profile, @quarryhillorchards. 
S&IO: Anything exciting or new planned for the 2022 season? What special events do you have planned for 2022?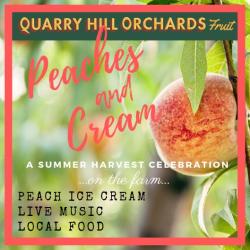 Brooke: We were graciously approved for funding under the USDA's Value-Added Producer Grant Program for our proposal to make New Zealand-inspired Real Fruit Ice Cream! We're super excited to roll this out in 2022. 
Also please view quarryhillorchards.com/special-events and join us for our annual special events, including the upcoming Peaches & Cream and Apple Peak.
S&IO: Within the past couple of years, you upgraded your market barn. Tell us why this was necessary and how it has benefitted your business?
Brooke: It was a real struggle for us to expand beyond the intimate space that we were limited to in the old barn (what we currently and affectionately call the "Packhouse"). In order for us to grow our retail operations, and become more efficient (and safe) in our wholesale side of the business, we absolutely needed more space. The Market Barn has really allowed us to celebrate the fruit that we grow, and our ability to share it with those that come out to visit us in a thoughtful way; naturally, there were some logistics and efficiencies that we realized as well...not to mention my new heated office suite Ben playfully calls my Ivory Tower.
S&IO: What is your favorite thing about living and working in the Shores & Islands region?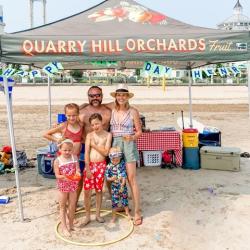 Brooke: The change and celebration of each season AND the double-whammy of being able to raise my children around these two BIG things: farm life and lake life. During the summers, our family will spend a day at the farm harvesting raspberries, serving peach ice cream after our peach-picking workshops, sweeping the Market Barn floors, driving the Gator out to check on the apple crop, and then head across the bridge to Catawba Island to enjoy dinner at Gideon Owen Wine Company, Twin Oast Brewing Co., or The Orchard Bar & Table with my Mom and Dad (Nonnie and Poppy, who ALSO transplanted here shortly after we did after they fell IN LOVE with the region!), followed by a sleepover at their lakefront cabin, and a spontaneous trip to Put-in-Bay the next day.  Seriously, how lucky are my kids!? This is why we don't have Disney on our vacation horizon! Oh, and how about our annual family staycation at Cedar Point's Hotel Breakers where we burn the candle riding roller coasters, and host a beach birthday party at Cedar Point Beach each July (you can find us under the Quarry Hill Orchards farm market tents). Now, all the aunts, uncles, and cousins come and make it a true family tradition! 
S&IO: If you had friends visiting from out of town, where would you take them?
Brooke: We get asked for recommendations all the time! Just this season, we're rolling out a new marketing asset called the "Quarry Hill Recommends" card for us to pass out to our friends that visit Quarry Hill!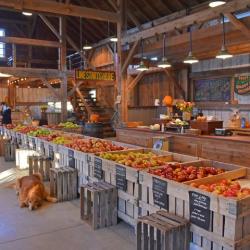 If friends come in from out of town, I definitely would take them to the islands, for a hike at Edison Woods MetroPark, shopping and lunch in downtown Vermilion, and to the beach in Huron by our house – AND, if time allows, shopping at Erie and Anchor, The Orchard Farm Stand, and River + Road Marketplace. 
S&IO: Perch or pizza? Where is your favorite place for either?
Brooke: Perch tacos at Dockside Café!
S&IO: Lake or land? Would you prefer spending time on the water or by the shore?
Brooke: Land…I love the feel of the warm sand (I also love to be barefoot) and watching the kids splash in the water, making sandcastles, throwing the baseball on the beach, hunting for beach glass, and managing the snacks, umbrellas, towels, sand toys, watermelon slices, and all the mom things! I also love a good boat ride, but I definitely like to really CAMP OUT on the beach!    
S&IO: Anything else to add regarding how to enjoy the region "like a local?"
Brooke: Support as many local businesses as you can!!! There is so much talent, love, support, and sense of community here, we are SO extremely blessed to call this region home!