Part of Shores & Islands Ohio Like a Local series – Meet Janet Wermuth, owner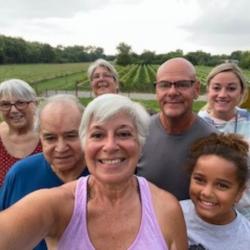 S&IO: Tell us about your business.
Janet: My husband Steve and I literally started Crooked Tree Vineyard from the ground up. We purchased the five-acre parcel of land in 2010. It was covered with scrub trees and old, rusted machinery folks had discarded over the years – including an old boat. The planting of the vines happened in 2013 and in 2014 we built the main barn with winery/tasting room on the first floor and the second floor is our home.
We grow two red varieties, Cabernet Franc and Chambourcin grapes. From these 3,000 plants, we harvest anywhere from two to seven tons of grapes annually. Five of the eight wines (three dry reds, a rosé, and a sweet red) we produce are estate wines made from grapes grown on the property and produced in our winery. The other three white wines available are made from wine provided by Matus Winery in Wakeman.
Steve and I are the only employees – we work side by side in all aspects of the business. Family and friends have helped us along the way; from planting the vines, annual pruning, the harvest, and bottling – oh, and a special group of volunteers taste-test the new wines! The tasting-room crew includes Steve and me along with my siblings Lynne, Patti, and Dominic.  It is a family affair.  Guests can sit inside or outside and walk through the vineyard.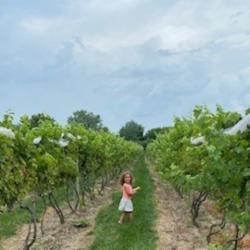 S&IO: What makes the Shores & Islands region a good location for your business?
Janet: From a vineyard perspective, Kelleys Island creates a great location to grow grapes. The soil in the vineyard is mainly a sandy loam, which offers good drainage, and the weather gives us a longer growing season.
From a winery/tasting-room perspective, the island residents enjoy the wines we produce on-site and are excited to see the wine industry on our island grow. We have been overwhelmed by the visitor reactions to our place; we have a steady group of returning annual visitors and first-time customers usually find a variety of wine they enjoy. The atmosphere is very calm and soothing which many folks appreciate as well.
S&IO: Anything exciting or new planned for the 2023 season? What special events do you have planned for 2023?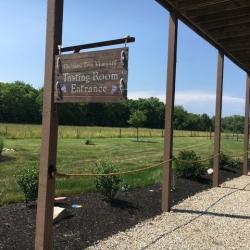 Janet: With the support of a Shores & Islands Ohio Destination Development Grant, we now have an outside pavilion with picnic tables for our guests! This will also be a great venue for our monthly live music performer, Joe Pfeiffer, and we are exploring hosting different creative workshops and maybe even yoga under the pavilion. And, we now have two vineyard cats to hang out with Happy, the dog. I am sure they will stay clear of our many dog visitors throughout the summer, so I don't want to discourage our four-legged friends from visiting!  
S&IO: What is your favorite thing about living and working in the Shores & Islands Ohio region?
Janet: It is such a unique experience to live on a Lake Erie island. The close-knit community provides a supportive environment to live and work. I appreciate the beauty of the lake and its shores in every season. The hiking trails, wildlife, and historical aspects of Kelleys Island are just amazing. But you definitely have to keep a sense of humor!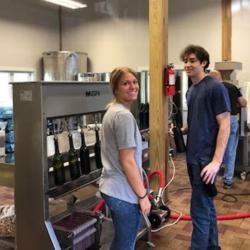 S&IO: Where/how do you find your Lake Erie Love?
Janet: I grew up in Lorain, Ohio, and have fond memories of playing on the area beaches and frequent trips to Kelleys Island to visit aunts and uncles with houses on the island. Lake Erie "grounds" me. It reminds me of the vastness and ever-changing nature of our life's journey.
Now that Steve and I live on the island full time, I cannot imagine not being here. Thankfully our blended families (Ashley, Megan, Sam, their significant others, and children) appreciate the island as well. My favorite times are sharing our home and property with them; seeing the joy in the grandchildren's eyes when they run through the vineyard or take a ride on the golf cart.  
This is home and is where we belong.
S&IO: If you had friends visiting from out of town, where would you take them?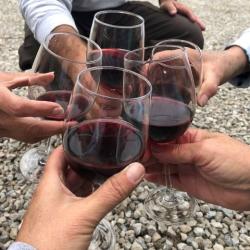 Janet: The first thing we do when someone new visits is take them on a tour, via our golf cart of course, of all the historical spots on the island – Glacial Grooves, Inscription Rock, the old winery sites, the cemetery, historic homes, and the school. Then we explore at least one of the hiking paths which is followed by a visit to one of the bars/restaurants or Papa T's for ice cream!   
S&IO: Perch or pizza? Where is your favorite place for either?
Janet: I like both! For perch, my preference is fresh-caught by family or friends and prepared at home with a light breading.
The Kelley's Island Wine Co. is our go-to place for pizza! They offer a cauliflower crust that is yummy and the topping options are varied. Plus, you can go over to the KI Cantina for a Cucumber Margarita. It is like having a salad with your pizza (well, that is what I tell myself.)
S&IO: Lake or land? Would you prefer spending time on the water or by the shore?
Janet: The shore. I enjoy the sound of the water lapping the shore, exploring the sand for shells and beach glass, and watching Happy, the dog investigate the beach. It is my go-to place when I need a bit of alone time.
S&IO: Anything else to add regarding how to enjoy the region "like a local?"
Janet: There are so many unique small restaurants and pubs in the Shores & Islands Ohio region. I encourage visitors to try local before they turn to the chain businesses.