Part of the Shores & Islands Ohio Like a Local series – Meet Jim & Dick, owners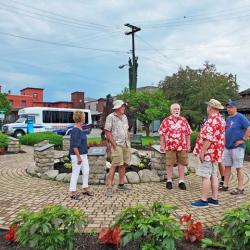 S&IO:  Why a tour bus and why Sandusky?
Jim & Dick: We came to the area six years ago to start Sandusky Segwave in downtown Sandusky. Experienced tour guides took guests to historic sites in downtown helping them understand the historic importance and significance of our area. We were forced to relocate because of the State Theatre renovation.  But that didn't stop us; we continued to believe in the untapped opportunities to showcase Sandusky's unique location and vibrant history. So, we expanded our business plan to transition to bus tours. With a bus, we can accommodate up to 18 guests per tour, travel to wider geographic areas (which means more interesting locations), not be limited by weather, and welcome guests with mobility considerations. We sum our metamorphosis by saying, "When the theatre door closed, the bus door opened."
S&IO: How did your history and previous careers pave the way to you opening your own service-oriented business?
Jim & Dick: Customer service has always been at the forefront of our careers - working for an airline and being a university administrator and faculty member. We refer to those who take tours as our "guests," not just "customers." We've built our tours to address a wide range of our guests' interests and do whatever it takes for our guests to experience a fun, interesting, and informative tour.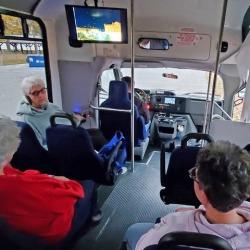 S&IO: Tell us about your family and crew.  Who is involved in making your business a success?
Jim & Dick: We're so fortunate to have our family's support for our business. And by family, that includes our extended group of friends and businesses whose support and contributions are so important. First, the staff at Shores & Islands Ohio has provided unwavering support through their many programs and outreach. We've also partnered with businesses to become an integrated part of our tours. These businesses help take our guest experience to the next level. These businesses showcase their specialties, their passions, and what they do best. This also provides guests with an understanding of their role and encourages guests to return to experience all they have to offer.
S&IO: How has the community embraced and supported you, made you feel welcomed, and encouraged your commitment to the region?
Jim & Dick: Before we made the decision to open a business in Sandusky, we met with the former City Manager, Eric Wobser, to get a realistic feel about the possibility for an LGBTQ+ business making "a go of it" in Sandusky. Without hesitation he assured us that diversity within the community would make us all stronger. Throughout our operation, we feel as though we've been woven into the fabric of the community. As we are supported, we in turn support the efforts of others in the community since we believe that as one benefits, so do we all.
S&IO: Tell us about a typical tour. What can your guests expect?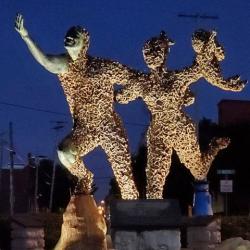 Jim & Dick: Our approach to each tour is to make our guest experience substantive, interactive, informative, and most importantly, fun. Tours are more than simply driving past a site and providing facts. We help guests appreciate the rich history of our area by uncovering interesting, factual, and historically-significant information. Images are projected on the onboard monitor that help visualize important information and sites; guests receive their own personal wine tasting logs that provide information about Lake Erie's wine region and where they're able to record and remember their tasting impressions from each of three local wineries we visit. Guests visit downtown locations then hear stories about spirits told by a renowned, local medium who has actually experienced them; guests tour a museum where a replica of a boat used by freedom seekers to cross Lake Erie brings to life Sandusky's role in the Underground Railroad; and they build family traditions while enjoying the Holiday Lights tours. Tiered pricing makes it manageable for any family to enjoy holiday lights. Your tour is more than just a transaction – it's an adventure!
S&IO: When is your season and how do your tours change throughout the year?
Jim & Dick: With the exception of the Holiday Lights tours that run throughout the month of December, tours run regularly from March through December.  There will also be special tours that allow guests to escape the doldrums of January and February. Watch the website for information.
S&IO: What new or exciting plans or tours are planned for 2023?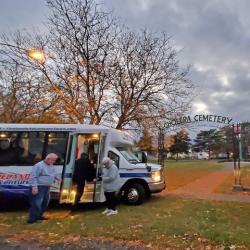 Jim & Dick: In cooperation with the Great Lakes Lighthouse Association, we're planning a Lighthouse Adventure. Who knew the significance and importance of lighthouses that are all in our backyards?  We'll also be expanding the popularity of wineries we visit in the region. In addition to winery tours in the Sandusky area (which we call the West Winery Tour), we're planning to include close-by wineries east of us – in the Vermilion area. What about a weekend wine package that includes both regions – with the opportunity to spend the night in Sandusky, enjoy a special dinner with wine parings, and extend your stay to include a trip to the Lake Erie Islands? Now that's an adventure!
S&IO: What's your favorite thing about living and working in the Shores & Islands Ohio region?
Jim & Dick: It's hard to beat the awe-inspiring vistas of the lake and bay on a beautiful, sunny day and the sunsets are spectacular! And, who can forget the friendliness and hospitality of everyone in the area? 
S&IO: If you had friends visiting from out of town, where would you take them?
Jim & Dick: We've had this situation. It depends on what their interests are. We've driven along the Lake Erie Coastal Ohio Trail scenic byway for scenery, dined at local restaurants to enjoy local fare, ridden golf carts on the islands, explored the Maritime Museum and the Merry-Go-Round Museum, and even spent time at Cedar Point if they enjoy amusement rides and the beach.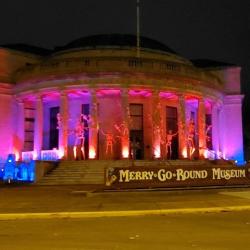 S&IO: Perch or Pizza?  Where is your favorite place for either?
Jim & Dick: NOT FAIR – we like both!  When we agree on perch, we often make the trip to Port Clinton to Jolly Rogers. It's a friendly place that we know we can always count on – it never fails. Pizza's another story. . . when we don't make pizza at home, we order it at Daly's. I know it's not a pizza house, but they do a great job with it and it's always something that we enjoy.
S&IO: Lake or land? Would you prefer spending time on the water or on shore?
Jim & Dick: We don't have a boat so our time on the water is usually en route via Jet Express to the islands. There are so many great options for a shore adventure. Not only the sandy beach at Cedar Point, but the shores at East Harbor State Park offer such a wide range of shore-side enjoyment.
S&IO: Anything else to add regarding how to enjoy the region "like a local?"
Jim & Dick: Take time to explore. There have been so many guests on our tours who are from this area who, at the end of the tour said, "I've lived here all my life and I never knew that about this area." Too many times we think that we must travel to far-away locations to experience something new and exciting. There is plenty to do and enjoy in our own backyard, so take advantage of the historic, recreational, and educational opportunities that are close at hand. Have an adventure!