Part of the Shores & Islands Ohio Like a Local Series – Meet Julene Market, co-owner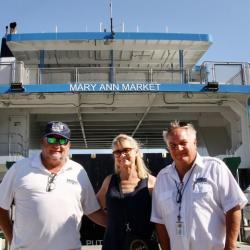 S&IO: Tell us about your business. Who is involved in the operations?
Julene: Our family owns and operates Miller Boat Line, the passenger and vehicle ferry service to Put-in-Bay (South Bass Island) and Middle Bass Island. Our parents, Bill and Mary Ann Market, bought the company in 1978 from Mrs. Lee (Mary) Miller. We kept the original Miller company name which stems back to 1905 when it began as a water taxi, ice harvesting, and fishing charter business. Today my brothers Billy, Scott, and I are the primary owners. We're extremely pleased to integrate my nephews and nieces into the daily operations of the family business.
S&IO: What makes the Shores & Islands Ohio region a good location for your business?
Julene: Our freshwater shores and islands have an age-old appeal. We're fortunate to live and work in one of the most diverse and beautiful areas in our country. Midwestern charm and community can-do attitudes are part of the attraction where visitors and dwellers alike feel "at home."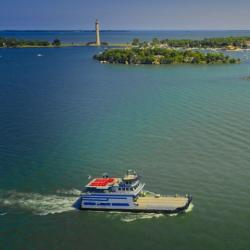 S&IO: Anything exciting or new planned for the 2023 season? What special events do you have planned for 2023?
Julene: Our newest ferry the Mary Ann Market began her Put-in-Bay trips in August 2022 and we're extremely pleased with her enhanced efficiency and comfort for our customers. We're excited to have her full-fledged for the 2023 season. For 2023 events, look for special gatherings and BIG events to come for the BicenTen Celebration (the 210th Anniversary of the Battle of Lake Erie).
S&IO: What is your favorite thing about living and working in the Shores & Islands Ohio region?
Julene: Our nature's showcase – Lake Erie. She's ever changing, a home to a wondrous variety of plants, trees and animals, and the rhythm of our lifestyle.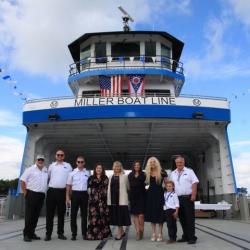 S&IO: Where/how do you find your Lake Erie Love?
Julene: I remind myself to pause and observe. Listen. Smell. Watch. The lake is a part of our makeup…Lake Erie Love on a cellular level!
S&IO: If you had friends visiting from out of town, where would you take them?
Julene: First stop – venture to the top of Perry's Monument. The open-air observation deck is 317 feet above Lake Erie with a 360-degree view of islands, mainland Ohio, and on clear days, Michigan and the province of Ontario. It's the ideal way to get a lay of the land (and lake) in our Shores & Islands Ohio region. Other stops would include birding, shoreline trails, Cedar Point, and of course food and drinks.
S&IO: Perch or pizza?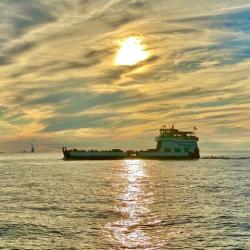 Julene: Perch – must be fried and preferably winter-caught through the ice. This is the food of my childhood (lucky me!). Mossbacks on Put-in-Bay is my perch go-to.

S&IO: Lake or land?
Julene: I'm an island girl, so I get to travel aboard a ferry often. A 20-minute relaxing boat ride can be the perfect commute. The shoreline is my solace, regardless of the temperature or season.
S&IO: Anything else to add regarding how to enjoy the region "like a local?"
Julene: If you share the love of this area as much as we enjoy sharing it, I can guarantee you'll make lifetime friends and forever "feel like a local."