Published February 2022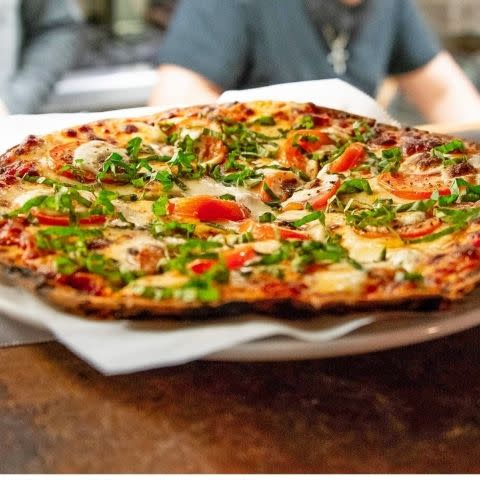 Did you know pizza was first invented in Naples, Italy in the 1700s as a fast, affordable meal for working-class people on the go? It gained popularity in the U.S. in the 1940s when immigrating Italians brought this classic dish. And thank goodness they did! Now, about 3 billion pizzas are sold annually in the U.S., according to Pizza.com, with Americans consuming approximately 350 slices per second! Every year on February 9 we recognize National Pizza Day, celebrating with a variety of pizza tastes and treasures.
Are you looking to fill a pizza craving, but also longing for something a bit different? You can get this gooey, cheesy goodness at a number of awesome restaurants serving pizza throughout the Shores & Islands region. Here, we offer some of the more non-traditional varieties to sample at some favorite local pizza joints.
Bianco Pizza
Crush Wine Bar, Sandusky
Crush Wine Bar offers food, wine, and spirits in a casual atmosphere in downtown Sandusky. During the warmer months, Crush has one of the area's most popular patios. The bar offers a complete wine list with wines by the taste, glass, flight, and bottle as well as craft cocktails and specialty martinis. The kitchen offers a creative and delicious menu of small plates, pastas, pizzas, and Asian-inspired menu items including sushi. If you are fan of fungi, try the Bianco Pizza featuring four cheeses, an assortment of exotic mushrooms, and truffle oil.
Bourbon Sriracha
Cameo Pizza, Port Clinton and Put-in-Bay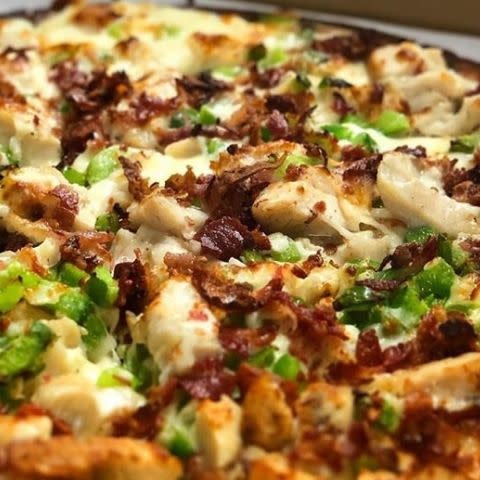 Cameo Pizza is a local chain, which began in Sandusky, Ohio in 1936 and has expanded throughout the region due to its delicious taste and secret family recipe. Currently available for pick-up and delivery in Port Clinton, Cameo 53 is opening spring 2022 with a bright and open floorplan, offering live entertainment and craft cocktails. During the summer season, Cameo Pizza is also available inside Mr. Ed's at Put-in-Bay. The Bourbon Sriracha is a distinctive pizza with bourbon sriracha sauce, red onion, and candied bacon.
Brisket Taco Pizza
Twin Oast Brewing, Catawba 
At Twin Oast Brewing, come for the beer and stay for the experience. This popular brewery is a hot spot year-round, especially with its reservable private igloos and a heated, enclosed pergola complete with the Hop House Bar and amazing views of the surrounding farm. The brewery offers a small year-round menu as well as meals that celebrate the seasons, with creative dishes that pair perfectly with their brews. Pizza is a staple on their menu, along with shareables (appetizers) and handhelds (sandwiches). Combine several taste profiles with the Brisket Taco Pizza, which has a sriracha BBQ sauce base, sour vide brisket, four cheese blend, fresh pico de gallo, and a jalapeno crema. Ole!
Hibachi Pizza
Sloopy's Pizza, Lakeside and Port Clinton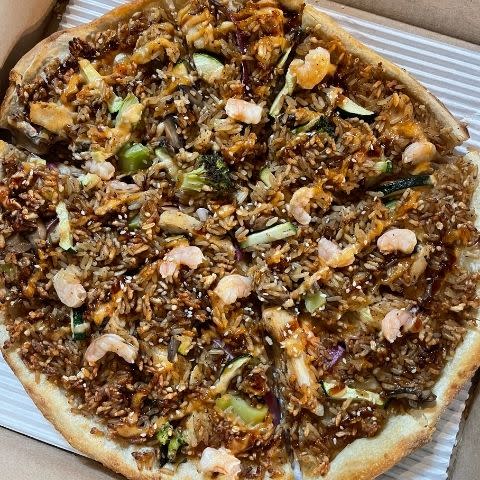 The original Sloopy's Pizza is a mainstay and a family tradition for many when visiting Lakeside Chautauqua. A second location was opened in 2015 in Port Clinton. With more than 20 years in business, Sloopy's serves a quality, award-winning pizza. Try the distinctively-flavored Hibachi Pizza featuring chicken, shrimp, sautéed vegetables including broccoli, carrots, mushrooms, zucchini, onions, fried rice, an oyster/soy sauce combination and Japanese White Sauce (yum-yum sauce) then finished with sesame seeds. All the traditional tastes of a Japanese Hibachi restaurant on a pizza pie!
Honey Almond Chicken Pizza
Huron Pizza House, Huron
A full-service pizzeria, the Huron Pizza House offers a family-friendly dining room serving pizza, pasta, subs, wings, and salads for over 30 years. Kids visiting the restaurant especially love viewing the aquarium! For a one-of-a-kind taste, consider the Honey Almond Chicken Pizza featuring seasoned grilled chicken, honey BBQ sauce, toasted almonds, and a cheddar and mozzarella cheese blend.
Hot Honey & Double Pepperoni
Orchard Farm Stand, Catawba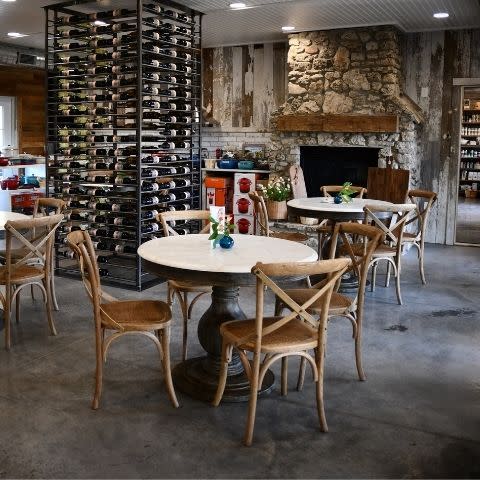 New-ish to the Shores & Islands food scene is the Orchard Farm Stand. A sister site of the very popular Orchard Bar & Table restaurant, the Farm Stand offers a more casual atmosphere along with a mixed-use destination where guests can eat, sip, and shop. Featuring not only great breakfast-to-dinner food options, it also includes a patio vineyard bar, gift shop and bakery, event space, and a variety of educational workshops and special dinners. A delight of the Farm Stand is its applewood-fired pizza. Try the Hot Honey & Double Pepperoni which offers Henny B's honey with a kick (a product available for sale in the gift shop along with other gourmet food items) and two layers of Old World pepperoni. So good!
Mediterranean Flatbread
Vita, Sandusky
Vita is a combination artisan market, bistro, and bar serving downtown Sandusky in a historic building which features gorgeous interior design. A place for friends to hang out all day long or to stop in for a quick bite or gourmet food item for home. They serve breakfast, lunch, and dinner six days a week and often host special events and live entertainment. Vita's bistro menu features small plates, paninis, and flatbreads. Flatbread is basically pizza using an unleavened dough. Enjoy the Greek flavors of the colorful Mediterranean flatbread which offers chicken, cream cheese, tomato, olives, artichokes, garlic butter olive oil, and goat cheese. Opa!
Pear Gorgonzola
Brick Oven Bistro, Sandusky 
A locally-owned family restaurant specializing in brick oven pizzas, calzones, sandwiches, and more, the Brick Oven Bistro has an amazing menu which includes a locally-sourced gluten-free pizza crust and other gluten-free items for those living a GF lifestyle. They utilize the freshest of ingredients and a slow-cooking brick oven method of baking their pizzas, along with an extensive craft beer list and hand-crafted cocktails. An exclusive pizza to try here is the Pear Gorgonzola which starts with an olive oil base and includes fresh Bartlett pears, gorgonzola cheese, a mozzarella & provolone blend, bacon, red onion, candied walnuts, balsamic reduction and arugula tossed with olive oil, salt, and pepper.
Spinach Tomato Basil
Chet and Matt's Pizza, Sandusky 
Under new ownership as of 2022, Chet and Matt's is a local favorite, especially popular with large groups, sports teams, and parties. Offering one of the area's only pizza buffets, this large restaurant offers a fantastic menu of pizzas, pastas, subs, and burgers. This restaurant is also home of the King Kong Challenge, where guests can win cash prizes for finishing a 29-inch pie. For a fresh taste, try the Spinach Tomato Basil Pizza, whose name thoroughly describes its toppings and whose colorful toppings are the colors of the Italian flag. Viva Italia!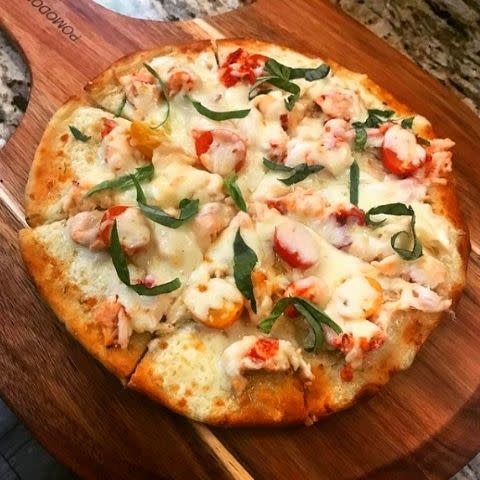 White Pizza
Firelands Winery, Sandusky
Open year-round, Firelands Winery offers a tasting room, gift shop, and restaurant. Carefully curated wine flights are offered, perfectly paired with their delicious food options prepared by expert chefs. Watch chefs at work in Fireland's exposition kitchen or tour the winery while you wait. Enjoy a wood-fired White Pizza which features creamy garlic sauce, grilled chicken, mushrooms, red pepper, and arugula.