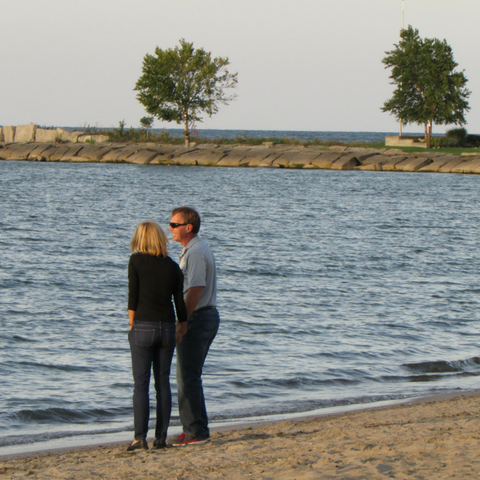 Updated April 2019
While every couple's idea of the perfect romantic getaway is different, Ohio's Lake Erie Shores & Islands offers options to suit any love-filled retreat. Whether you're looking for quiet, cozy time spent together or more active pursuits, here are some ideas to help with planning a romantic Shores & Islands getaway.
Stroll on the Shore
What's more romantic than a peaceful walk on the beach during sunrise or sunset hours? With more than two dozen beaches, Lake Erie Shores & Islands offers public swimming parks with water rentals and convenient amenities, as well as undisturbed coastlines for dipping your toes in the surf.
A Fondness for Wine
Who says you have to go to Sedona or Napa Valley for a vineyard vacation? There is a popular and award-winning wine region in northern Ohio. The Lake Erie Shores & Islands Wine Trail is the perfect setting for a wine tasting tour. The region, which is home to nearly a dozen wineries, is rich in viticulture and full of traditional estate vineyards, modern tasting rooms, and casual wine bars. Consider letting someone else coordinate your wine tour with Sawmill Creek Wine Tours or Scarlet Transportation & Adventure Tours.
Relax and Rejuvenate
Sometimes togetherness requires a bit of an escape from the pressures of the real world and a full-body renewal. Treat yourselves with a couple's spa experience. Spa Kalahari and Salon offers a 3-hour Spa for Two special including a Serengeti Skies (Relaxation) Massage (50 min), a Spa Pedicure (50 min) and the choice of a Personalized Facial (50 min) or a Gentleman's Facial (50 min). Or, consider a couple's acupuncture appointment, available at The Little Healing Room on Kelleys Island. Re-set your souls with a morning of beach yoga, offered at numerous locations throughout the region.
Fine Dining
At times, the most romantic thing a couple can do together is share in a fancy meal at an elegant restaurant. Get dressed up and experience the region's finest cuisine at a number of eateries, serving everything from sushi to steak. Lake Erie Shores & Islands is a foodie's dream, with a diverse selection of fine dining restaurants. Remember, it's a special occasion, so don't skip dessert!
Friendly Competition
Consider a bit of friendly competition or maybe promote teamwork with some problem-solving as part of your romantic getaway. Test your competitive nature with a friendly round of golf, shuffleboard, bowling, or pickle ball. Hit up fun centers such as Caddy Shack Square, Goofy Golf, Island Adventures Family Fun Center, Perry's Cave Family Fun Center, or The Watering Hole Safari & Waterpark for mini-golf or go-kart racing, among other attractions. Visit Cedar Downs for bowling, lazer tag, and off-track horse betting. Or, take the opposite approach and encourage each other with a puzzling experience at Escape Rooms by Franknicky, two new "Out of This World" escape rooms at Kalahari Resort, or the escape room at Ghostly Manor Thrill Center. Help each other navigate exciting tree top adventures at Common Ground Canopy Tours.
Dance the Night Away
Ohio's Lake Erie Shores & Islands presents a full slate of entertainment options. Take in an intimate concert at The Listening Room or the Sandusky State Theatre – its Jazz at 8 Series is perfect for date night. Or, take the weekly Party Cruise on the Sandusky Bay with Goodtime Lake Erie Cruises. Local bars, pubs, wineries, and restaurants offer live musical entertainment nightly. Check out our live entertainment calendar to see what bands are playing and where.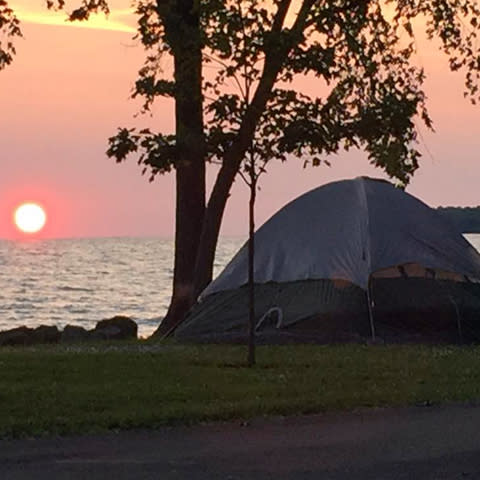 Cozy Camper, Luxury Resort, or Something In-Between?
An integral part of your romantic weekend getaway is where you stay. With accommodations to match every romantic mood, Ohio's Lake Erie Shores & Islands has campgrounds for a night under the stars, vacation rentals for optimum privacy, full-service hotels and resorts, and comfortable bed & breakfasts. Stay on the waterfront for a true coastal getaway or find a remote spot in the country or woods. There are plenty of lodging options for your ideal romantic retreat. Make planning a bit easier on yourself with a variety of lodging packages available that combine accommodations with local attractions or romantic amenities.
Feel the Lake Erie Love! Where will your romantic weekend in Ohio's Lake Erie Shores & Islands take you?