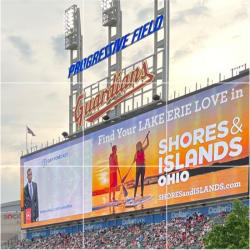 The Cleveland Guardians held their home opener this past weekend and locally, Sports Force Parks will host its first tournament of the year this coming weekend! It's safe to say baseball season is in full swing in the Shores & Islands Ohio region.
Once again, our destination has partnered with the MLB's Guardians for a season filled with sunny skies, or at least we hope! At selected home games, Shores & Islands Ohio will be the presenting sponsor for the weather report shared on the giant screen at Progressive Field, with our ads also running on boards all around the stadium. If you can't make it up to Cleveland to catch the game in-person, you can still hear us promoting a Shores & Islands Ohio getaway on Cleveland Guardians radio as well. We've even partnered with local station, WLEC-1450 AM, which is this year celebrating 75 years of broadcasting Cleveland baseball! Later this spring, we'll be promoting a contest with the local station where one lucky listener will get to throw out the first pitch at a game later this summer!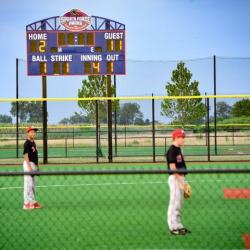 There will be plenty of the nation's pastime in America's Sports & Family Fun Capital this spring as Sports Force Parks adds onto the OHSAA varsity baseball schedule taking place on its turf fields, kicking off their Spring Tourn-a-League – a three weekend tournament series held at the facility through the late weeks of April. First pitch of the series will be the Roller Coaster Challenge on April 15th and 16th, followed by the Double Play – hosting both baseball and softball events the same weekend on the 22nd and 23rd. Capping off the April slate and the Spring Tourn-a-League is the Kalahari Klassic on April 29th and 30th. That will bring the season into full swing as the facility will host a three-day or longer baseball tournament every week through June 4th.
And, later this summer, the Sandusky Bay Ice Haulers bring family baseball entertainment back to Sports Force Parks. In addition to high school and collegiate tournaments, the MLB-inspired ballfields at Sports Force Parks are also host to the Ice Haulers, a member of the Great Lakes Summer Collegiate League competing with teams across Ohio, Indiana, and Michigan. The Ice Haulers 2023 slate kicks off with a three-game series against the Lima Locos at home June 6-8, with first pitch penciled for 7 pm all three days. The Ice Haulers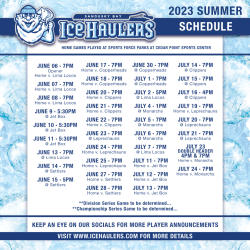 utilize Field 3 at SFP, which is a replica of the Detroit Tigers' Comerica Park. Ice Haulers baseball is a fun time for all!
Head to https://www.shoresandislands.com/events/sporting-events/ to get a look at the full schedule of sporting events happening in Shores & Islands Ohio!