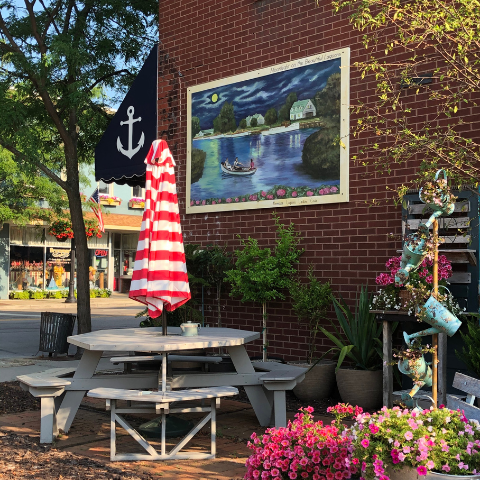 Published December 2020
The city of Vermilion is known for its quaint downtown and lakeside charm. Now it is also known for its public art! Vermilion's first public art installation, The Postcard Project, debuted in segments throughout 2019 and 2020 and is now available in its completion for public viewing. Featuring 15 mural-sized paintings of vintage postcards spread around the waterfront town, this trail is an ode to Vermilion's heritage as a vacation destination.
Each of the 15 5x8-foot murals were hand-painted in oil by Amherst, Ohio, artists Mike Sekletar and Brian Goodwin. Some of the images feature scenes from vintage postcards that are as old as 100 years! Nearly 10,000 postcards were submitted by Vermilion residents for consideration. Some of the murals depict classic sites of places that no longer exist, such as the "Crystal Beach Ballroom," which was known in its heyday for hosting the likes of Guy Lombardo, Cab Calloway, Duke Ellington, Lawrence Welk, and other Big-Band-Era performers. Crystal Beach closed in 1962 and the ballroom was subsequently demolished. Other murals are nostalgic depictions of sites still in existence today, such as "Night View of Liberty Street Looking East" which depicts downtown storefronts.
Viewing the postcard murals is a great activity any time of year, with ten of them located in the historic downtown district making for a great walkable tour. The other five can be found within a short drive.
A keepsake tour guide is available from Mainstreet Vermilion's downtown office, which features a trail map and a short history of each postcard. A $5 donation is suggested for the official Postcard Project Tour Guide. Souvenir postcards are also for sale to benefit future public arts projects and would make a great holiday gift for anyone who loves Vermilion's heritage and history, or simply loves to vacation here. Click here to purchase a postcard project souvenir pack online.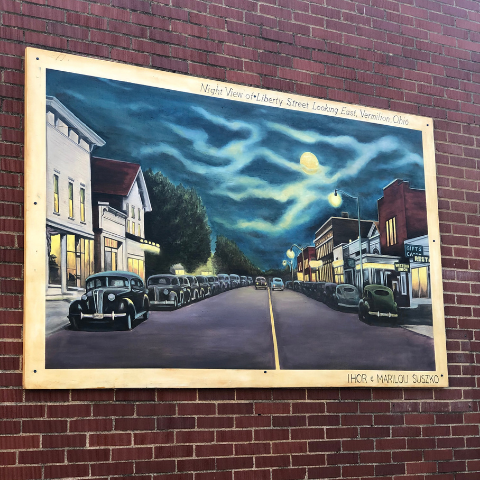 The project was spearheaded by Public Art Vermilion, a program of the non-profit Main Street Vermilion dedicated to the revitalization, beautification, and preservation of historic Downtown Vermilion. Congratulations are also in order, as The Postcard Project was recently recognized by Heritage Ohio with the Best Main Street Committee Project Award for combining history, art, and community engagement.
Visit the coastal community of Vermilion, Ohio, today and enjoy this beautiful public art project! For more information, log on to mainstreetvermilion.org.