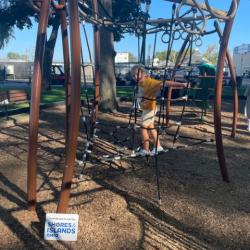 Guest post sponsored by The Village of Put-in-Bay, by Village Administrator Anne Auger*
In the heart of the Village of Put-in-Bay is DeRivera Park which, along with the natural harbor, provides the beautiful natural focal point of its downtown area.  While DeRivera Park is enjoyed by all who visit Put-in-Bay, it is especially utilized by recreational boaters in our marina and tourists just spending the day on the island, including school groups. Picnic tables, grills, public bathhouse, and lockers are just some of the convenience's visitors utilize in the park to make their trip to the island more enjoyable, relaxing, and cost effective. Families and school groups also currently find recreational equipment for children in DeRivera Park.
This recreational equipment is a busy spot for all ages! A stand-alone section for the younger set, Will's Playground, in memory of an Island Child who suffered from SMA established by his parents and a more challenging area for those up to twelve years.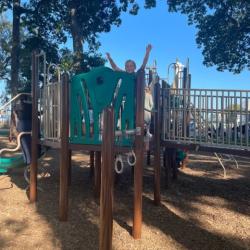 These spaces are well loved! The playground is filled with giggles and laughter and a wonderful spot for many generations to gather and make family memories.
Will's Playground and the Village of Put-in-Bay are grateful to Shore & Islands Ohio for helping to keep this very favorite and popular spot safe and fun!
*The Village of Put-in-Bay received a matching grant from Shores & Islands Ohio's Destination Development Fund to upgrade and repair damaged playground pieces.