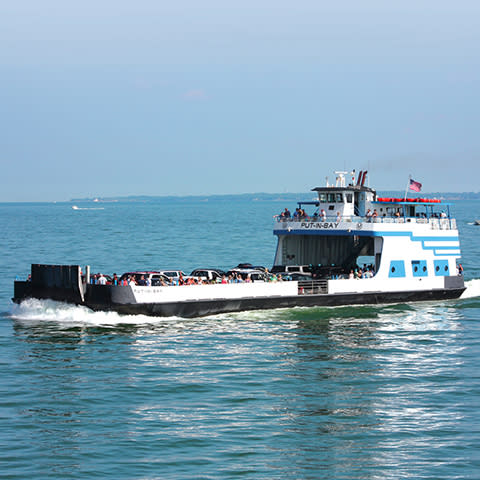 Updated November 2021
So, you're heading out on a road trip and you are ready for some island time. At Ohio's Lake Erie Shores & Islands, you can easily combine the two! Take your car to cruise scenic island drives. Or don't; it's completely up to you. You can road trip as far as the ferry landing or airport and then continue your island journey via golf cart, bike, or foot. There are many ways to explore these quaint and comfortable islands.
There are many different ways to get there from the mainland. Here, we're breaking down all your transportation options for easy navigating. All you have to do is enjoy the sites when you get there!
Plot a Course to Put-in-Bay
The most convenient way to get to and from Put-in-Bay is via ferry, with two companies offering service to South Bass Island.
Miller Ferries runs regular trips from its Catawba mainland dock for both vehicles and passengers, with a minimal shut-down usually from late December-March. Miller can take your car, truck, camper, motorhome, boat trailer, and more. Reservations are recommended for vehicles, as space is limited. On busier weekends, overnight reservations on the island may be required to bring your car, as island parking is at a premium. You do not need to bring your own vehicle to the island, as within walking distance of the dock are a variety of rental options for golf carts and bicycles. If you are a walk-on passenger, note that arrival is about 2 miles from downtown. The Lime Kiln Bus and several taxi companies are available upon arrival. Transportation time on the Miller Ferry is about 20 minutes.
The Jet Express offers seasonal, direct-to-downtown, passenger-only service. This high-speed catamaran operates two mainland ports - Port Clinton and Sandusky. Transportation time from Port Clinton is about 30 minutes. The Jet Express offers comfortable, indoor seating as well as an open-air deck and is the only ferry to offer late-night service, with runs sometimes as late as after midnight. The Sandusky boat also stops at Cedar Point and Kelleys Island, so the total excursion time is about 45 minutes. 
Another option for reaching Put-in-Bay is via airplane. Flights are available via Griffing Flying Service and Island Air Taxi, LLC from the Erie-Ottawa International Airport (PCW). Planes carry up to 15 passengers along with freight. Smaller, private planes can land at Put-in-Bay Airport (3W2) during daylight hours only, as the runway is not illuminated. Call ahead to assure you can land, as the airport does close occasionally for special events.
Of course, private water craft and boats of all sizes are welcomed at a number of public and private marinas. It is always a good idea to call ahead and reserve a transient slip if you're planning to arrive via boat, as boating is a popular area activity. Put-in-Bay harbor also offers mooring buoys, with water taxi service available to transport passengers to land. Buoys are available on a first-come, first-served basis.
Cruising to Kelleys Island
The Kelleys Island Ferry Company offers daily auto and passenger ferry service from Marblehead. Transportation time from Marblehead to Kelleys Island is about 20 minutes. There is indoor and outdoor seating for passengers. The Kelleys Island Ferry operates as lake conditions allow, with a minimal shut-down during the winter. The ferry arrives at Seaway Marina, about a ½ mile walk from downtown. There are golf cart rentals available upon arrival and at several other locations in town.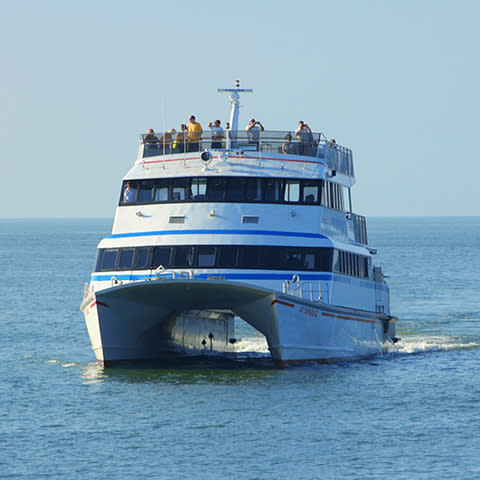 The Jet Express offers passenger-only service, direct to downtown. From the Sandusky port, the ride is approximately 25 minutes, sometimes with a stop at Cedar Point Marina. Therefore, guests at Cedar Point are also able to access the Jet Express to both islands. From the Port Clinton port, you can take the Jet to Put-in-Bay and then transfer boats to continue on to Kelleys Island, via the inter-island boat.
A number of private marinas are available for personal boats and reservations are recommended. Air service is available via Griffing Flying Service from Erie-Ottawa International Airport. Small, private planes can access the island via a small airstrip (89D) during daylight hours.
Having a Good Time Touring the Islands
Goodtime I Lake Erie Cruises offers an island-hopping tour, which stops at both Kelleys Island and Put-in-Bay, departing from downtown Sandusky. This is a great way to experience the islands with a quick visit to each. The narrated cruise features sightseeing along the mainland coast, including Cedar Point and the Marblehead peninsula. Cruise time is one hour to Kelleys Island with an hour and half port visit. Board the boat again for another hour cruise to Put-in-Bay, where you'll spend three and a half hours enjoying the island. Enjoy a leisurely two-hour boat ride back to port in Sandusky. The Goodtime I hosts a variety of other cruises as well, from family-friendly to adults-only party cruises, and more.
On the Move to Middle Bass Island
Passenger and auto service are available to Middle Bass Island from the mainland, via the Miller Ferries Catawba port. The scenic, 40-minute ferry ride is available several times a day during the summer months. The ferry is able to transport cars, but vehicle reservations are required.
You can also ferry to Middle Bass Island from Put-in-Bay/South Bass Island via the Sonny S. Boatline, which provides regularly scheduled ferry service between the Boardwalk dock and Middle Bass Island.
Middle Bass Island State Park operates a 184-slip marina, available May-October, for private boat guests.
Via air, Griffing Flying Service offers flights from Erie-Ottawa International Airport and private craft can land at the Middle Bass Island Airport (3T7).
Journeying to North Bass Island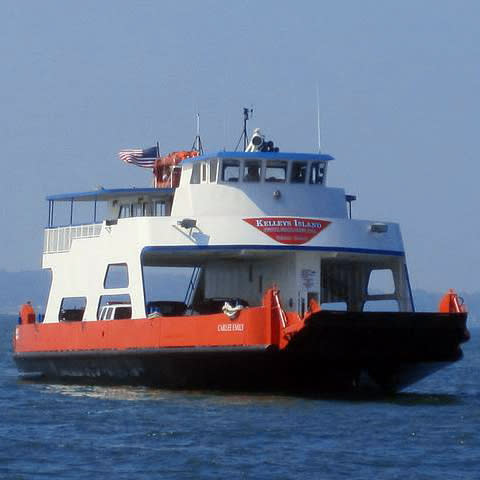 North Bass Island is a bit more remote, but if you are renting North Bass Island State Park's Lake House, you'll need to arrange a flight through Griffing Air Service or private plane to North Bass Island Airport (3X5), or take a private boat. North Bass Island Marina provides transient dockage for boaters. Guests of the Lake House will be provided a slip at the marina as well as an ATV for use during their stay.
Make your summer road trip an exciting one with a visit to Ohio's islands! The hospitality and adventure are unmatched. Due to the ever-changing travel climate associated with COVID-19 and weather-related lake water issues, it's always a good idea to call ahead to verify service on the day of your intended travel. You can also call the Lake Erie Shores & Islands welcome centers at 800.255.3743 for the latest updates.