Published June 2018
Wine connoisseurs can give thanks to the unique microclimate Lake Erie affords for the diverse and delicious selections of grown-up grape juice in northern Ohio. The Lake Erie Shores & Islands viticulture is not just a major industry and popular tourism draw; it is also a passion with two federally-designated American Viticultural Areas (Isle St. George and Lake Erie). Wine-makers and wine-tasters alike take their reds and whites seriously! While many local favorites can easily be purchased at the supermarket, the best way to experience and compare wine samplings is in-person at the winery! Each winery in the Shores & Islands has something different and exciting to offer.
Paper Moon Vineyards in Vermilion isn't all wine and hard cider, it's also fun and games. Friends and couples can enjoy a glass or bottle of Paper Moon's unique wine while sitting outside by the fire ring or playing some lawn games. Rain trying to ruin your fun? Have a seat under the covered outdoor patio; large enough for 60 people! Follow The Winemaker's Blog to find wine-related information, fun photos, and upcoming news from vintner Adam at blog.papermoonvineyards.com.
For a bit of country charm, check out Quarry Hill Winery in Berlin Heights. You just can't get a more picturesque setting than Quarry Hill's sweeping panoramic views of the surrounding orchards and fruit farm. Buckeye Red is their best-seller; however, being near an orchard the Apple wine is a must-try! Or grab a bottle of Strawberry Rhubarb, sit out on the deck and quench that summer thirst! This wine is the perfect balance of sweet and tart!
Firelands Winery located in Sandusky has been producing estate-bottled wine since 1880 with grapes grown at vineyards on the Isle St. George (North Bass Island), the first official Ohio American Viticultural Area. Have a tasting, browse the gift shop, or take a tour and see first-hand how Firelands' award-winning wine is made. Groups will also love Firelands as you can book a private chef to prepare a delicious meal in the Osteria Gusto demo kitchen. For anyone who remembers Lonz Winery on Middle Bass Island, you can still get bottles of their most popular wines as Lonz's recipes are now part of the Firelands' family. A bottle of Lonz Blackberry wine is perfect for anyone who is feeling nostalgic or wants to try a unique wine thought to be lost to history!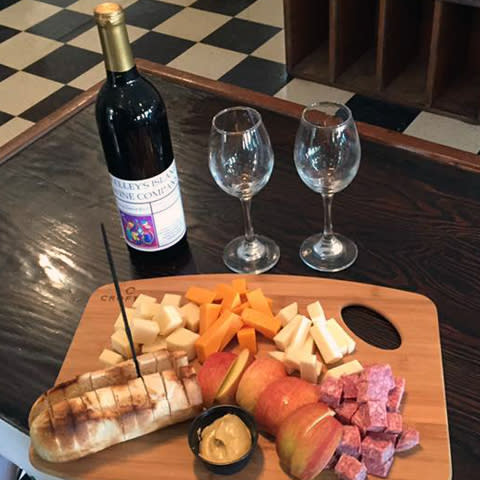 Feel like family at The Kelley's Island Wine Co., specializing in handcrafted island wines. All wines are produced and bottled on the premises. Varieties are made from local grapes that lend themselves to the Lake Erie wine region. Sit on the patio and sample the Coyote White, semi-sweet fruit of the vine pressed into a bottle. Don't forget the Sangria, a fan favorite!
Become a friend at Mon Ami Historic Winery & Restaurant located on charming Catawba Island. Mon Ami, my friend in French, not only offers tasty wines from one of the oldest wineries in Ohio's Lake Erie Shores & Islands, it also offers a full-service restaurant, including a delicious Saturday seafood buffet and Sunday brunch. For a sweeter wine perfect for summer try Mon Ami's Pink Catawba, made with locally-grown Catawba grapes, and sit on the outdoor patio while enjoying live music.
Speaking of Catawba grapes, Heineman's Winery's Sweet Catawba is the secret ingredient in Put-in-Bay's very own Chicken Patio's famous BBQ chicken recipe! Heineman's Winery is a Put-in-Bay staple, established in 1888 by Gustav Heineman. Now in their 5th generation, this winery is the oldest winery in Ohio. Heineman's survived Prohibition by offering tours of Crystal Cave, located on site. Today you can still tour Crystal Cave, home of the world's largest celestite geode, along with the winery itself and learn about this island wine-making tradition.
For another unique island sampling, stop by Put-in-Bay Winery at the Doller Estate. Here you will find playful labels that tie into local lore, such as "Victory Lap White," a nod to the historic road races once held on the streets of Put-in-Bay and now held at the local airport. While sampling wine, tour through the historic Doller Mansion and explore the mysteries of the Valentine Doller Family and learn about island life in the 1800s, or enjoy stunning Put-in-Bay harbor views from the outdoor wine garden.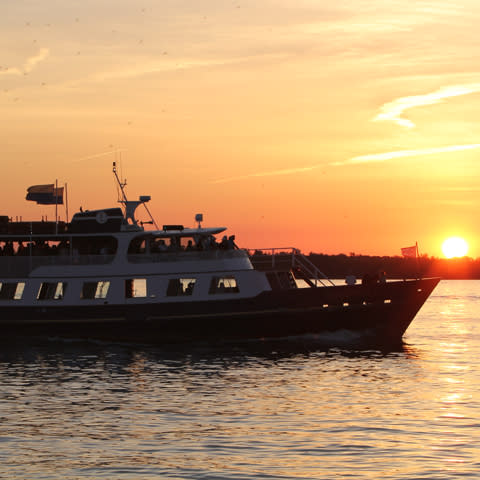 Wine tours are another one-of-a-kind option for those wishing to get out and explore the Lake Erie Shores & Islands Wine Trail. The Goodtime I Lake Erie Island Cruises offers wine-tasting dinner cruises on select summer Sundays aboard their 117-foot-long, 355-passenger boat. Wine tastings accompany a four-course meal, light entertainment, and a beautiful Lake Erie sunset. Boats not your thing? You and up to 12 of your friends can schedule a Sawmill Creek Wine Tour for an afternoon of fine food and delicious wine by a guided driver knowledgeable in the region's history and wine-culture.
This is just a flight of all the wonderfully-unique wineries Lake Erie Shores & Islands has to offer. For a full list of wineries, please contact one of our welcome centers. Cheers!