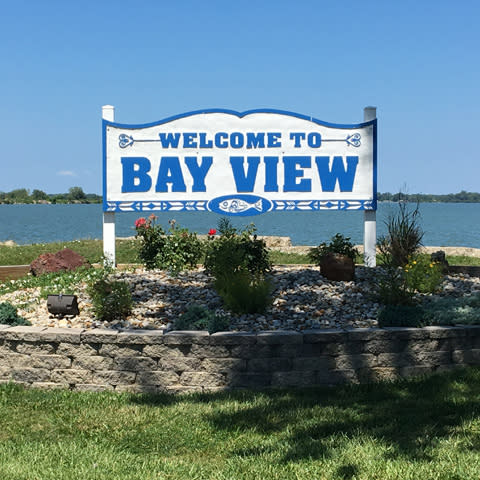 On Tuesdays this summer, we are exploring the great cities and towns that make up Ohio's Lake Erie Shores & Islands for #TravelTuesday. Don't miss our previous #TravelTuesday posts – to-date we have visited Vermilion, Middle Bass Island, Lakeside Chautauqua, Milan, Kelleys Island, Huron, and Put-in-Bay on South Bass Island. This week, we were able to fit in two of our smaller communities, the rural village of Castalia and the coastal neighborhood of Bay View.
Castalia is known for its mysterious "blue holes" - seemingly bottomless ponds filled with spring-fed water that lacks oxygen. Many remember the former "Blue Hole" roadside attraction, popular with visitors until it closed in 1990. The village of Bay View boasts some of the best fishing as well as great views of sunsets over Sandusky Bay.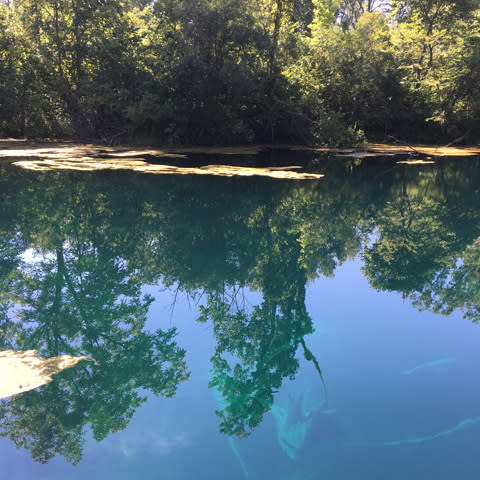 Start early with a self-guided tour of The Castalia State Fish Hatchery, 90-acres of serene ground including outdoor pools called raceways, a half-mile section of Cold Creek, and an up-close view of a "blue hole" aquifer. The cold water supply from these aquifers allows the hatchery to raise steelhead and rainbow trout. All of the state's steelhead production occurs here. The facility also offers great wildlife viewing opportunities and a limited lottery-style fishing program on the portion of Cold Creek that runs through the hatchery grounds.  
Head over to The Sandusky Bay Bridge Access, a state-operated public fishing site, and test out your fishing skills. The access is approximately one-mile and extends south into the waters of Sandusky Bay. As a former two-lane bridge, it connected Danbury Township in Ottawa County with the village of Bay View in Erie County. In 1965, the bridge's auto traffic was rerouted west to the new four-lane Thomas A. Edison Memorial Bridge (State Routes 2 and 269). Now the bridge only allows foot traffic and anglers love to fish off the rocks. There's plenty of parking here, and you'll likely catch some walleye, yellow perch, largemouth bass, smallmouth bass, channel catfish, crappie, or steelhead trout.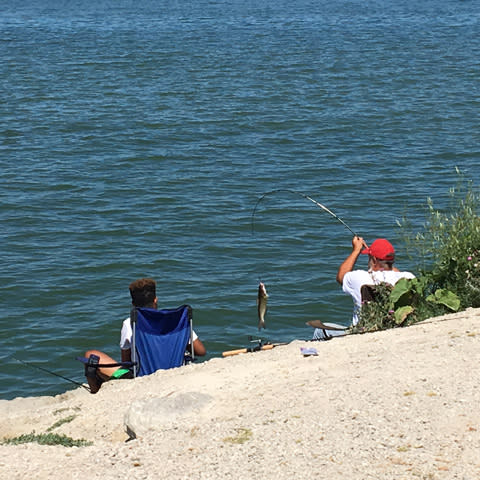 No fishing license? No problem. Just a short distance from The Sandusky Bay Bridge Access is Lagoon Deer Park. You can fish here for rainbow trout, channel catfish, white bass, carp, bluegill, crappie, perch,  and more in four stocked ponds. Make sure to bring your own poles and bait if you want to fish though. After fishing, be sure to stroll through the park where you will be greeted by…you guessed it, a handful of deer. Take a walk around the park and meet of a variety of animals from around the world including llamas, goats, sheep, elk, peacocks, emus, rheas, miniature donkeys, and the new Scottish Highlander.
By the time you hit mid-day you'll want to so hop back on SR 269 and head north to have lunch at Rayz on the Bay in Bay View, a bar and grille with great food. Try one of their delicious burgers or chicken balls - fresh chicken breast chopped up, breaded, and deep fried with a variety of sauce options. Be sure to sit outside and enjoy the beauty of the Sandusky Bay!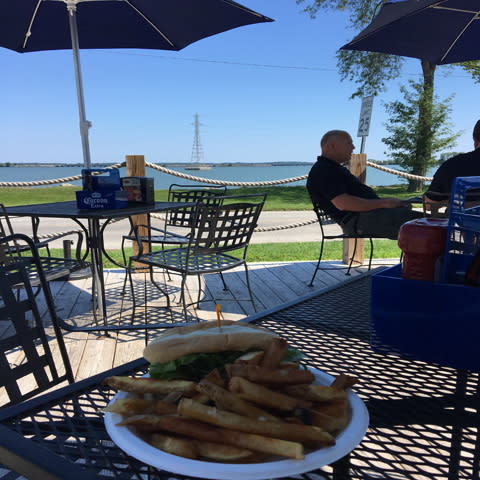 It's time for a little history lesson. The Castalia Area Historical Society Museum is a small museum and repository of Castalia area historical information and collectibles such as Blue Hole souvenirs and tufa rock statues. It is open the first Saturday of every month, 2-4 pm; or by appointment by calling 419.684.9710.
Next, we hiked a trail for roughly 45-minutes at the Castalia Quarry MetroPark that lead us to an observation deck; the deck offers a panoramic view of Sandusky Bay and the Lake Erie Islands. The quarry is home to about 240 species of native plants, including some that are rare.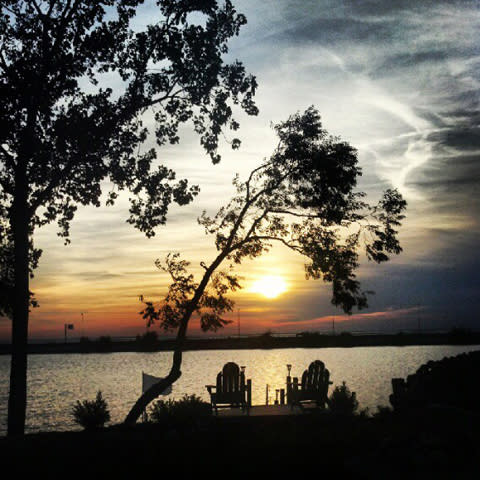 No visit to the bay area is complete without a float on the water even for just a little while. Boats are available for almost any use - fishing, skiing, tubing, or just boat riding and sightseeing on Sandusky Bay or Lake Erie at Clemons Boats. The minimum age requirement for boat captains is 25 years. If you happen to be out on the water during the evening hours, be sure to take in the views of an amazing sunset over Sandusky Bay.
Overnight guests can relax at Millsite Lodge, a place where stress melts away as you immerse yourself in 24 acres of natural beauty. Millsite Lodge also offers trout fishing privileges on Cold Creek, one of Ohio's premier trout streams. To find other accommodations in the area, visit SHORESandISLANDS.com and search the Central Shores neighborhood.