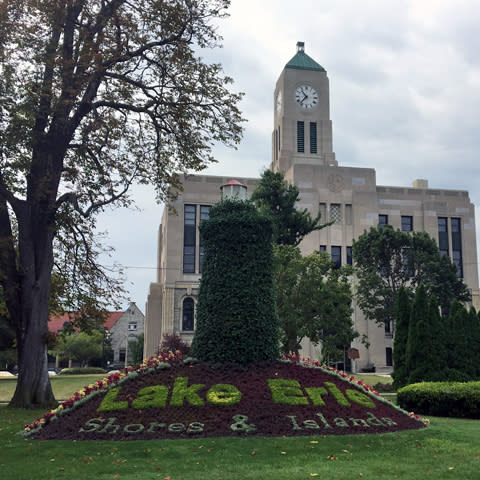 On Tuesdays this summer, we are exploring the great cities and towns that make up Ohio's Lake Erie Shores & Islands for our #TravelTuesday initiative. Don't miss our previous #TravelTuesday posts – to-date we have visited Vermilion, Middle Bass Island, Lakeside Chautauqua, Milan, Kelleys Island, Huron, Put-in-Bay on South Bass Island, Castalia/Bay View, Marblehead, and the charming small towns of Elmore and Genoa. This week we visited historic downtown Sandusky. 
With numerous attractions, downtown Sandusky surprises with its beautiful parks, architecture, and wealth of history. Here are just a few of the places we visited today.
Play
Ferries
The Jet Express in downtown Sandusky offers high-speed passenger ferry service to Cedar Point, Kelleys Island, and Put-in-Bay. Goodtime I Lake Erie Island Cruises offers Daytime Island Hopping Cruises to Kelleys Island and Put-in-Bay, Sunset Cruises, Wine Cruises, and a variety of specialty cruises.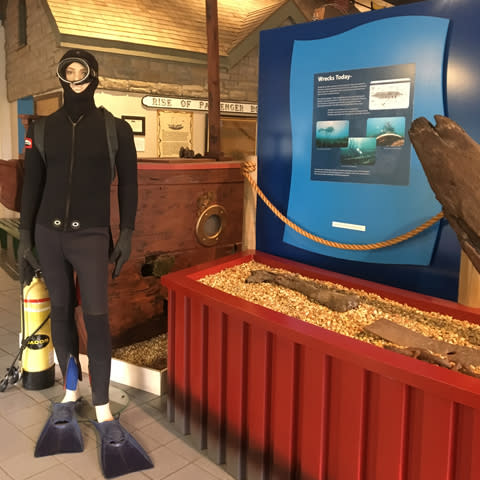 Historical
Dive into the rich maritime history of the Sandusky Bay area at the Maritime Museum of Sandusky. Interact with a variety of exhibits including ice harvesting, shipwrecks, boat building, the wetlands, Sandusky's Underground Railroad history, and more. Other nearby museums include: Merry-Go-Round Museum, Cooke-Dorn House Historic Site, and Follett House Museum.

A few of the remaining sites and people influential in the Underground Railroad movement have been highlighted in a brochure that offers a narrative as you take the self-guided tour throughout Erie County. Brochures and maps can be obtained from the welcome centers. An Underground Railroad self-guided walking tour of Sandusky sites is also offered online and via mobile device by the Erie County Historical Society. One place to note is Facer Park, home to the life-sized sculpture, "Path to Freedom". Created by local artist Susan Schultz, the sculpture is a symbolic representation of fearless people escaping the chains of slavery.
The Sandusky State Theatre is an historic landmark that enhances the lives of the residents of North Central Ohio by providing a variety of programs of artistic, educational, and social value. Search the online calendar for featured movies, performances, and other events taking place.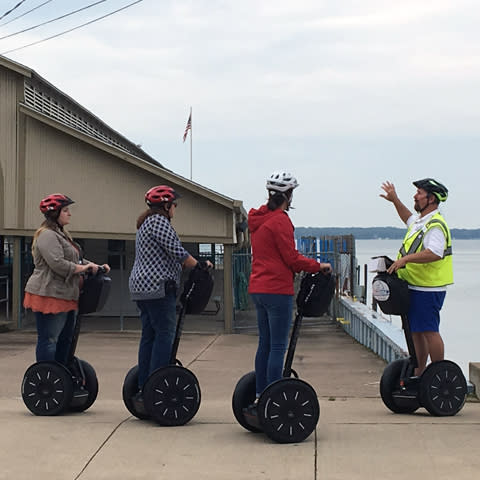 Recreation
Discover the fun of riding a Segway through historic downtown Sandusky. Spend two hours with Sandusky Segwave exploring the beautiful paths and byways that bring Sandusky's past to life. No experience necessary – tour guide Jim will have you riding in no time!
Vogontz Bike Share - Download the Donkey Republic mobile app, and with just a few quick taps you are ready to explore Sandusky and the islands on these unique orange bikes. Keep the chain in the rear basket; the bike can be locked and unlocked as many times as you want during your rental period. Check out the Sandusky Bay Pathway, a recreational trail that provides direct access and waterfront views to the city of Sandusky's coast throughout the downtown area.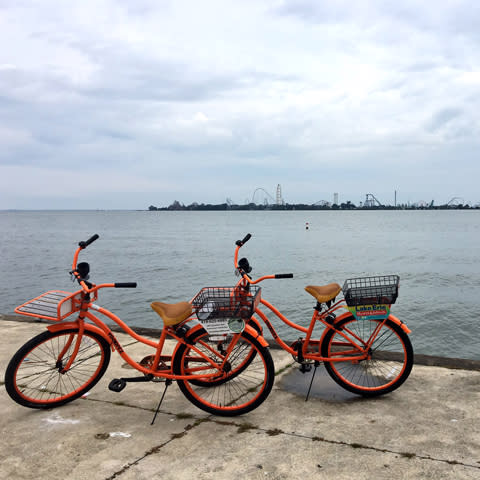 Explore
Washington Park, located in the center of Sandusky's downtown historic district, features beautiful floral beds, mounds, and designs. It is also home to the iconic symbol of the City of Sandusky, The Boy with the Boot.  
Shop
The Fabulous Female Boutique offers quality apparel, accessories, jewelry, and gifts for women of all ages. Comfortable, youthful, fresh styles that make you look good and feel good about yourself. Brands include Comfy USA, Fenini, CMC, Vera Bradley, and Gingersnaps.
Eat
One of the best things about traveling is the delicious food and drink you get to enjoy. Visit Boom Town Coffee, downtown Sandusky's newest hot spot, for morning coffee and a variety of breakfast items. Small City Taphouse is an establishment for both craft beer lovers and raw fish fanatics. Try the Small City Taphouse roll: layered spicy tuna topped with tuna, salmon, mango, and apple finished with spicy mayonnaise, eel sauce, and caviar. Dockside Café, located next to the Paper District Marina, is accessible by car, foot, or boat. This seasonal food counter offers outside dining and is an excellent location to catch the sunset on Sandusky Bay. Try their "World Famous Walleye Tacos" topped with pico de gallo, mixed lettuce, and lime aioli. Obviously we couldn't eat all day, but the Sandusky dining scene is tremendous with a variety of dining options for every taste from fast-casual to formal.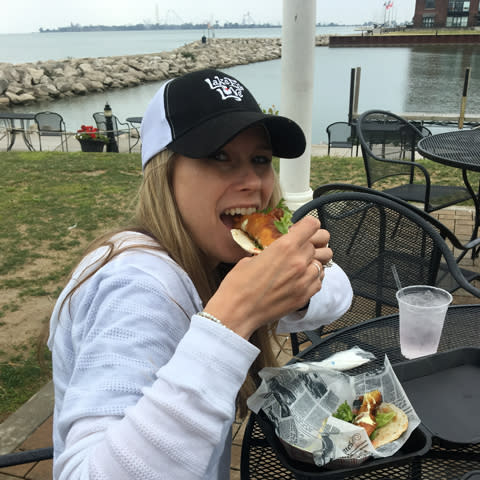 Stay
Relax for a weekend or an entire week with overnight lodging options including Dockside Accommodations, located in the boathouse district one mile from Cedar Point and Sandusky's first-ever boutique hotel, Hotel Kilbourne, on the city's beautiful historic waterfront.
Located on the shores of Sandusky Bay and Lake Erie, Sandusky has over 22 miles of shoreline within the city limits, including surreal views of Cedar Point Amusement Park. Established in 1818, Sandusky is celebrating its bicentennial with yearlong festivities during 2018, including a tall ship event. The city's robust destination economy combined with rich traditions and history make Sandusky the ideal place to visit and live.