On Tuesdays this summer, we are exploring the great cities and towns that make up Ohio's Lake Erie Shores & Islands for #TravelTuesday. Don't miss our previous #TravelTuesday posts – to-date we have visited Vermilion, Middle Bass Island, Lakeside Chautauqua, and the charming town of Milan.
Welcoming is the word that comes to mind when you visit Oak Harbor. This lovely village lies on the north bank of the Portage River, which gives access to Lake Erie. Oak Harbor features quaint shops, historic buildings, and cozy restaurants. Recreational opportunities abound as the area is home to a lengthy Lake Erie shoreline, beaches, natural areas, and more. Numerous celebrations such as October's Apple Festival draw thousands here each year.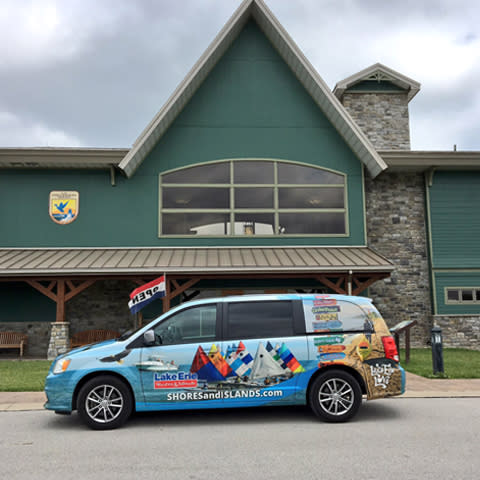 The phrase 'the early bird catches the worm' can be easily transformed into 'the early birder catches the bird.' Take advantage of birding early in the morning to begin your exploration of Oak Harbor. The Black Swamp Bird Observatory is an organization dedicated to bird research, conservation, and educational programs for the public. The office, visitor center, and gift shop are located at the entrance to Magee Marsh Wildlife Area. Talk to the experts to learn the best birding tips before you venture out. Magee Marsh Wildlife Area is the best place in Ohio to witness the spring migration of neotropical birds. Visitors come for the orioles, thrushes, vireos, flycatchers, and raptors, but the warblers really attract the attention! There are more than 37 species of warblers that usually make an appearance here. Due to their reluctance to cross Lake Erie, the birds pile in on the forested beach ridges in large numbers and provide spectacular bird watching opportunities. Nearby Ottawa National Wildlife Refuge was established to provide habitat for waterfowl and other migratory birds, resident wildlife, and endangered and threatened species. It is an excellent location to view bald eagles as there are many nesting sites on the refuge. The area is so popular for birding in fact, that it annually hosts The Biggest Week in American Birding! This 10-day birding extravaganza attracts visitors from all over the world to the region.
After a morning with your feathered friends, stop by the Village Bake Shop for fresh donuts and coffee or the Evolve Riverfront Café near the Portage River. We sampled the Café Mocha and Mango Peach Smoothie, made with Greek yogurt, almond milk, honey, and 100% fruit. Top it with whipped cream or add protein for an extra $1.00.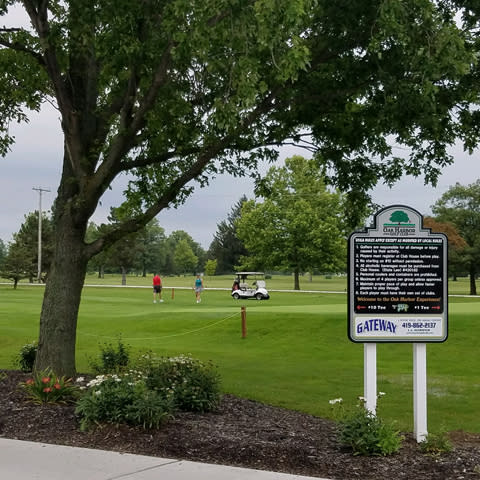 Once you're fueled up, it's time to play a round of golf. The Ottawa County community has a beautiful secret - Oak Harbor Golf Club. This picturesque course, formerly known as the Portage Point Golf Club, first debuted in 1964 with a breezy nine holes. Today, Oak Harbor Golf Club has evolved into a scenic, yet challenging 18-hole golf course. Watered fairways, driving range with natural tees, pro shop, golf instruction with PGA professionals, season passes, and food & beverage service are just some of the reasons to visit this golf club.
After your break, spend a few hours exploring the quaint downtown shops where you can browse for gifts, clothing, candles, antiques, art, craft consignments, personalized items, and more. Don't miss Designs by Marie & So Much More, Village Creations Resale Shop & Antique Mall, and The Hope Chest. Just a short drive from downtown is Moore Orchards Farm, Inc. It is an old-fashioned country store offering quality home grown peaches and apples fresh from their orchard!
Ready to unwind? Take advantage of the new Oak Harbor Interurban Overlook and Kayak Launch. There are seasonal docks with a kayak launch open from May-September on the banks of the Portage River near Mill Street. Take in the view from the overlook or bring-your-own kayak for a relaxing evening on the river.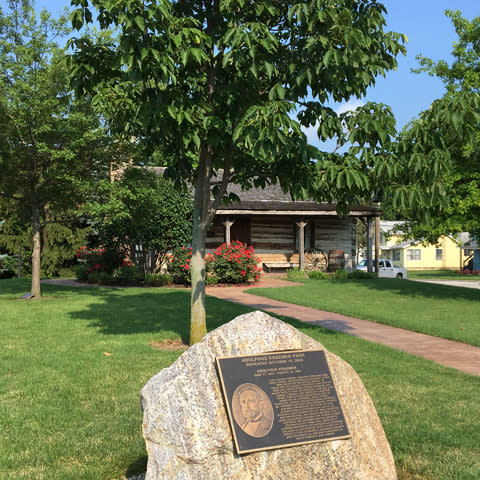 Traveling with kids? Veterans Park is great place to run off some energy! The park includes three little league ball diamonds, one softball diamond with a concession stand, two full size basketball courts and three half-basketball courts, two tennis courts, a sledding hill, roller blade/ice skating rink, and plenty of playground equipment. Reminisce about the good old days at Adolphus Kraemer Park. An on-site 1800's log cabin was relocated from the Ottawa County Fairgrounds. Another great reason to visit annually is the Ottawa County Fair!
Overnight guests can stay at the Inspiration Inn Bloom B&B, which features five rooms, or one of twelve units at Magee East Marina & Campground. Beachfront cottages, condos, and other vacation rentals are also available. To find accommodations or to learn more about Oak Harbor, visit SHORESandISLANDS.com and search the West Shores neighborhood.