Looking for the latest Shores & Islands developments? Or maybe it's been a while since your last visit and you don't want to miss a thing? Check out all the new and notable attractions to the region for 2023. Time to start planning your summertime getaway!
Cedar Point Amusement Park introduces The Boardwalk midway, a themed area which will offer a classic lakeside experience. The Wild Mouse roller coaster is a nod to the park's original, but the modern version has cars that spin 360 degrees as they navigate the ride's 1,312-ft. track. The Boardwalk area also offers the all-new Grand Pavilion, a bi-level complex with a restaurant, lake-view bar, and decks overlooking Cedar Point and the beach.
Erie MetroParks will introduce a $3 million nature center to Osborn MetroPark. The nature center will include educational classrooms, built-in live animal areas, a turtle pond, community space, and a window-in-nature viewing area. It is expected to open later this year.
Outdoor Water Park Expansion – Coming summer 2023, Kalahari Resorts & Conventions outdoor water park and Safari Outdoor Adventure Park will debut a new 15,000 sq. ft. pool and 50 ft. free fall jump tower and the grand reopening of the 60 ft. high zip line. Open Memorial Day to Labor Day, this outdoor playland is adjacent to the Midwest's largest indoor water park! The resort is also opening a new Build-A-Bear Workshop.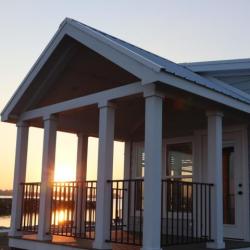 Bayfront Resort at Cross View will open on Sandusky Bay, adjacent to Hoty Marine's boat storage facility. The resort offers 39 luxury RV sites and 10 fully-furnished cottages for transient rentals. Amenities include a heated pool, community room, laundry facility, and panoramic views of Cedar Point.
New Island Nature Preserve - A new 13.5-acre nature preserve recently opened on South Bass Island. Duff Woods Preserve features a 2,200-ft. hiking trail which winds through trees and wildflowers. The second phase of this project is underway now, which includes the preservation of an additional 6.5-acres, including the Duff Homestead, which will eventually be used as a visitor center and an office for the Put-in-Bay Township Park District. The adjacent woods will be preserved and the waterfront will be protected. A third phase of the project is planned with an additional purchase of 11-acres of vineyards, antique outbuildings, orchard, and garden for the creation of a historic farm park – a working farm with opportunities for classes, workshops, and other special events.
A number of new photo opportunities have emerged. Murals were painted on restrooms at Ottawa National Wildlife Refuge. Speaking of murals, paintings have also popped up at Sandusky's Paddle Bar and Everwild Spirits, and at DeRivera Park at Put-in-Bay. South Bass Island State Park also features an all-new photo-op Put-in-Bay sign. There is also a new "love locks" sculpture located behind Crush Wine Bar and J Bistro in Sandusky.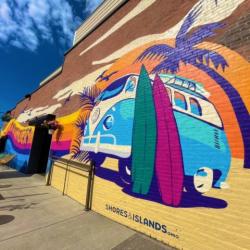 The Black Swamp Bird Observatory, located just inside the entrance to Magee Marsh Wildlife Area, is completing extensive renovation in 2023 along with construction of an education center. Each building will feature a window on wildlife, where the public can enjoy birds and nature, and where students can participate in bird study courses.
Pool Hall/Sports Bar – Zippy's Sports Bar has opened in the Park Place Plaza in Sandusky near Walmart. Open seven days a week, the family-friendly eatery offers nine high-quality, regulation-sized pool tables. Owners Marc and Tanya Keller are hoping to begin league play soon. A full kitchen and bar menu is available.
Several new dining and drinking options have opened since 2022! Saucy Brew Works and Saucy Coffee opened in downtown Sandusky offering craft-brewed beers, a pub menu, and a coffee shop. Everwild Spirits offers a craft bourbon distillery experience along with a restaurant and bar. The Coop at Ørchard Farm Stand in Catawba is an indoor/outdoor bar serving premium spirts and high-end cocktails in a lush garden setting with fire pits overlooking the chicken coop. The Brick House in downtown Port Clinton makes gourmet pizzas and burgers, along with an extensive beer and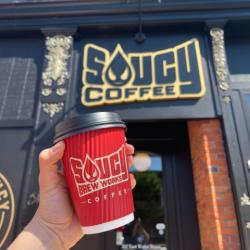 cocktail selection and seasonal Bloody Mary's. Patina Porch is a bar/restaurant in Sandusky with a gorgeous view of marshland and many birds. Patina Porch features 10,000 sq. ft. of finished space and can be rented for special events.
If you love to shop, look no further than Downtown Vermilion. Already known for its quaint boutiques and eclectic shops, the community has had several new retailers open recently. Be sure to check out SOS Wines, Main Street Threads Boutique, Harbourtown Trading Co., and Hometown Bakery. Plus, the popular and upscale Chez Francois added the 555 Lounge, serving craft cocktails and a raw bar. Other exciting happenings in Vermilion for 2023 are the completion of the Main Street Beach Bath House and further development of the park area around the beach, as well as the continued partnership between the Harbourtown Fine Arts Center and the Cleveland Ballet, who will once again offer performances locally.
IRONMAN 70.3 Ohio returns to Sandusky – Ironman 70.3 Ohio was held in Sandusky, July 24, 2022 with great success and will continue for two more years with races in 2023 and 2024. Competitors have the opportunity to qualify for the 2023 Ironman 70.3 World Championship. The popular triathlon consists of a 1.2-mile swim in Sandusky Bay, a 56-mile bike ride through Erie County, and a 13.1-mile run along the Lake Erie shoreline, finishing in downtown Sandusky.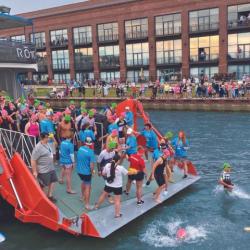 Lakeside Chautauqua Updates – The Hotel Lakeside Dining Room is now Lakeside Table & Tearoom, with the same waterfront views and a new family-friendly dining experience. SmoothieSide opened this past fall serving smoothies and smoothie bowls made with quality ingredients. The World Next Door shop, under new ownership, is now called Gifts That Give Back and features unique, handcrafted goods from around the world which give the maker a fair wage. See more about Lakeside Chautauqua's Sesquicentennial under "anniversaries."
New Marblehead Eatery – Red's Summerhouse is a new dining experience coming to the bay side of the Marblehead peninsula. At Red's you're invited to experience the history and culture of Marblehead. This is a place for family, friends, music, and an elevated pub menu. A gathering place for all!
The Lonz Mansion, part of the former Lonz Winery on Middle Bass Island, will undergo a $5 million restoration. Built in 1906, the house sits within Middle Bass Island State Park and the Ohio Department of Natural Resources hopes to bring the house back to its former glory. Construction should be complete in 2024.
New Island Spirit – Shiphouse Vodka is a new locally-distilled vodka from entrepreneur Bryan Kasper and named after the iconic Benson Ford house at Put-in-Bay, which Kasper owns. The vodka is sold in a unique ship-shaped bottle. Kasper plans a retail spot on the island and the vodka is also available at state liquor stores in Ohio, Tennessee, Indiana, and Pennsylvania.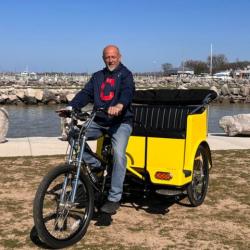 Tour Downtown Sandusky a new way – South Shore Pedicabs is a fun way to get around town for 2-3 passengers in a pedal-operated rickshaw. South Shore Pedicab offers taxi service around downtown Sandusky as well as historical area tours from May – Labor Day.
Popular Shop Moves and Expands – The Marblehead Soap Company has moved and expanded into a new 12,000 sq. ft. shop with room for even more growth. The shop features natural products made for sensitive skin. Other expansion plans include a coffee and hot dog shop and eventually a cigar bar, speakeasy, and bed-and-breakfast located on her property over the coming years.
New owners for former Mecca Motel – Justin and Lisa Brady, owners of Lake Erie Adventure Co. in Huron recently purchased the former Mecca Motel on the east end of Sandusky with plans to renovate and turn it into Explorer Rest and Recreation. The new owners intend to rebuild all 25 guest rooms, refresh the backyard area and add outdoor amenities, as well as offer space for food trucks. They hope to complete the work later this year.
Favorite Eatery Returns – A former local favorite, the Asian restaurant Nagoya, has recently returned to Port Clinton with a new concept restaurant, Nagoya Hibachi Express. The new eatery is located at the Harbor Light Landing complex on SR 53 and features many of the familiar foods and recipes, same quality sushi, same customer service, and more. The new restaurant allows guests to pick up favorite Nagoya meals for quick carry-out. They also offer an adjacent dine-in experience, The Sushi Room, offering made-to-order sushi, signature appetizers, and amazing sake list and full liquor menu.
Sportsbook live gambling – The Thirsty Pony announced a partnership with BetSkybox to operate a sports gambling establishment within the Thirsty Pony. Legal sports betting began in Ohio on January 1, 2023 and this will be the area's first such facility. The new sportsbook will feature over 100 large-screen TVs broadcasting live sporting events and horse racing. Guests will be able to make wagers at multiple kiosks as well as with staff. Guests are also able to cash out their winning tickets and receive cash payouts on site. The Thirsty Pony is also expanding to accommodate this addition, as well as adding a new food venue called the Buckin' Mule Kitchen.
Sandusky-area "glamping" – A new floating village of houseboats has opened near Cedar Point. SolStay is a getaway for those who want an experience on the water without completely roughing it. The eight on-site houseboats are one-bedroom cottages, many converted from pontoon boats. They are fitted with a queen bed and two chairs, as well as a small outdoor deck. Guests will use a shared restroom facility, similar to a campground, plus a rooftop hot tub, grill, fire pits, and an onsite marina store.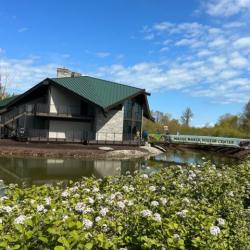 New Visitors Center – The Magee Marsh Visitors Center recently debuted an extensive renovation to welcome the tens of thousands of guests the nature area welcomes annually. The exterior of the center now features large glass windows while the interior features new upper and lower observation decks, new exhibits focusing on the hunting tradition at Magee Marsh, accessible walkways and bathrooms, improved energy efficiency, and more. A new gift shop, operated by the Friends of Magee Marsh, is also included.
New RV Resort Coming to Perkins Township – Executives representing a nationwide RV company want to create its newest resort park on land in a rural portion of southern Perkins Township. The site operator is affiliated with RVC Outdoor, a national operator of outdoor destination properties in nine states. Based on preliminary drawings on file with Perkins Township, the community development department has advised that the project would include about 215 RV sites, an office, swimming pool/playground/pavilion area, cabins, and more. The total site area is approximately 42.6 acres. The proposed RV resort park would be located on the west side of US 250 just north of the Mobil Hy-Miler and opposite Kalahari Resorts and Conventions. Construction is under way.
ANNIVERSARIES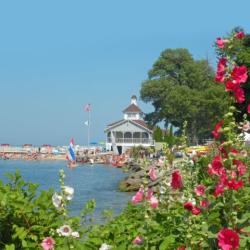 Lakeside Chautauqua 150 years – Since 1873, Lakeside has been offering summer educational programing, performing arts, and spiritual enrichment for locals and visitors alike! That summer, a group of men, under sponsorship of the Methodist Central Ohio Conference, cleared land on the Marblehead Peninsula. They built a podium, plank benches, and a few stone structures. The goal of this group was to host revivals on the grounds. A few tents sprang up, and by the following summer, cottages began being built surrounding the grounds. Concurrently in upstate New York, in 1874, they founded the Chautauqua Institute. The movement grew throughout the 19th century and by 1900, over 300 Chautauqua resorts existed throughout the United States. Back home in Lakeside, Ohio, the community began growing and the Chautauqua movement was an obvious fit. This movement as a whole lured many celebrities, musicians, and some of the top thinkers in their fields giving lectures, classes, and leading various activities through the summer seasons. Lakeside has boasted visits from several presidents (including Ulysses S. Grant and Rutherford B. Hayes), Amelia Earhart, Eleanor Roosevelt, Victor Borge, and modern performers such as Melissa Manchester and Amy Grant. In addition to lectures, spiritual education, and recreation, Lakeside continues to host a wide variety of performers and even hosts its own symphony orchestra for several weeks each summer. Of the original number of Chautauquas in the early 20th century, only five, including Lakeside, have operated continuously since their inception! A number of special events are planned for 2023. Follow LakesideOhio.com for 150th Anniversary celebration info!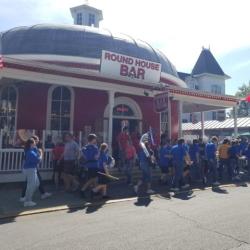 Round House Bar 150 years - The Round House Bar opened for business as the Columbia Restaurant in June of 1873. No one is sure when the bar was named The Round House, but originally it was called the Columbia Restaurant. It had a dome roof thirty-two feet from the floor, while the interior of the vast circular room was fifty feet across. The room was excellently lit from six large windows by day and eighteen gas jets by night. Building a round building connected with the Victorian era interest in nature and spirituality. Round buildings, barns, museums and houses were considered the most efficient use of space. When it opened, the Columbia Restaurant served refreshments including beer, wine and food. However, the real treat back in those days was ice cream and cottage cheese. The McCann family purchased the Round House in the early 1950s and painted it the now famous red color. The entire building is wood constructed and for the most part, all original, except for the interior floor and the front porch. The plastered walls have always been a part of the building. Today, the bar is known for the Whiskey Light opening and closing ceremonies (celebrating 15 years in 2023), excellent live entertainment, and buckets of beer. It is still operated by the McCann family, going on 70 years.