Published June 2021
So, you've planned a Lake Erie beach day. Sometimes, all you need is the sand between your toes and the sounds of waves lapping the shore.  For those relaxing days, check out our full beach directory (swimming and non-swimming) as well as our Top 6 swimming beaches.
You want to make your beach day stand out? Take it to the next level here! We've compiled some ways to enhance your Shores & Islands beach day for when you want a little bit more than simple sand and sun.
There are so many ways to give your beach getaway a glow-up. Take to the water for some floating or splashing fun. Several beach areas have kayak or stand-up paddle board rentals on-site, including Kelleys Island State Park, South Bass Island State Park, Lakeside Chautauqua, Cedar Point Beach, and Nickel Plate Beach.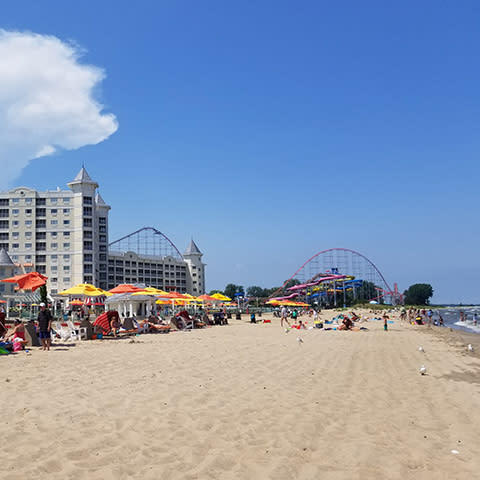 Kelleys Island Kayak Rentals – kayaks and paddle boards, located at Kelleys Island State Park Beach
Lakeside Chautauqua Watercraft Rentals – Sunfish sailboats, kayaks, and paddle boards, located at Lakeside Chautauqua Beach
North Coast Parasail & Watersports – Jet Skis, kayaks, and paddle boards, located at Cedar Point Beach
The Paddle Shack – kayaks, paddle boards, and more (see below), located at Nickel Plate Beach
Put-in-Bay Watercraft Rentals – Jet Skis, kayaks, paddle boards, 12' (25HP) and 15' (40HP) power boats (must pass safety test or possess an Ohio Boater Safety Card for Jet Ski and power boat rentals), located at South Bass Island State Park Beach
The Paddle Shack, a beach rental shop located at Nickel Plate Beach, offers lake rafts or floats, water mats, and boogie boards! They also have beach games as well as drinks and snacks.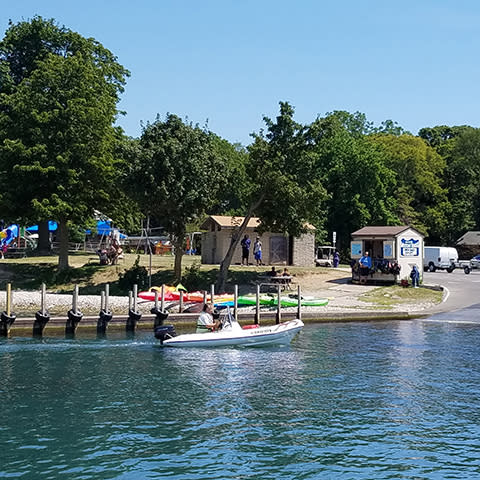 Be bougie at Cedar Point Beach or Nickel Plate Beach with lounge chairs, umbrellas, and sun shelters (available at Cedar Point -first come, first serve- and rentable from The Paddle Shack at Nickel Plate). Beach equipment rentals are also offered at Vermilion's Main Street Beach, so you don't have to bother packing up the car or lugging lots of heavy gear.
Cedar Point Beach also offers some upgraded beach day amenities such as the on-beach Sand Bar where you can enjoy tropical drinks and live entertainment. At the adjacent boardwalk, you can partake in Segway or Boardwalk Cruiser (pedicab) tours. Specialty tours can be reserved such as a Rise & Shine tour (which includes a pitcher of mimosas), a history tour, a wine tasting ride, or a Bike & Brew tour. Northcoast Parasail also offers parasailing for up to three riders for a bird's-eye view of the beach below.
Want a private beach experience? Consider chartering a boat from Lake Erie Sailing Charters or Northcoast Parasail & Watersports. Have your chartered sailing yacht or power boat anchor off the shore of one of our popular beaches. Or, find a sand bar in Sandusky Bay or a cove along the shoreline to hang out and do some lake swimming.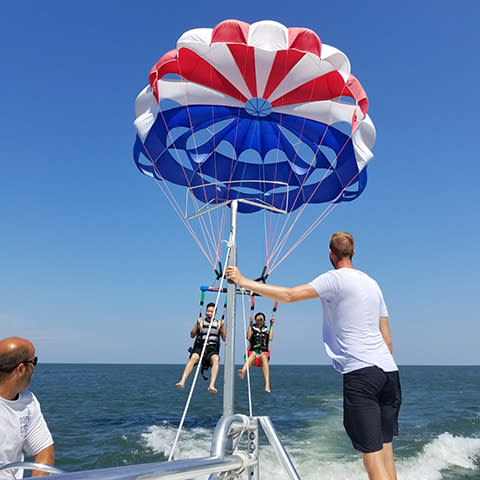 Got kids you need to keep from getting beach-bored? Keep them entertained with beaches that include playgrounds like those at Nickel Plate, Port Clinton City Beach, Lake Front Park, Sherod Park, and others. At East Harbor State Park, take the kiddos for a break from the water with programming at the adjacent campground's nature center, hike or bike more than 10 miles of multi-use trails, or play a round of disc golf.
Lake Erie's beaches make for a fantastic getaway. How you enhance your beach day is up to you!