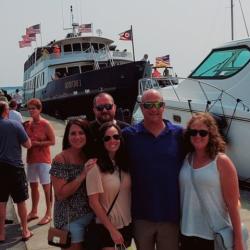 Things aren't scary in Shores & Islands Ohio, although the lake is Erie. Autumn brings fun and festivity to the region and what better way to get into a season of being together than a group trip. Read about fall festivals and events in Shores & Islands Ohio Fall Event Highlights or check out our events calendar to see what to incorporate in your next Shores & Islands group itinerary.
Looking for something to do? Consider the Goodtime I. The boat and its cruisers spend the summer island hopping and sunset watching. However, when the season changes, eyes turn towards football. As you venture across Lake Erie, catch views of Marblehead Lighthouse, Cedar Point, and perhaps the changing of the leaves as your group travels to Kelleys Island. Enjoy downtown shops and restaurants and watch the Cleveland Browns face their opponents on select dates. The boat departs from Jackson St. Pier in downtown Sandusky and arrives downtown Kelleys Island. With the summer island-hopping cruise, the boat also docks downtown Put-in-Bay. Goodtime I can also be rented for private events.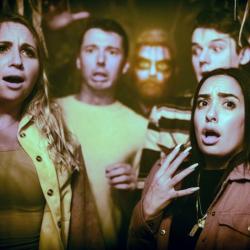 Want something a little more thrilling? Fearlessly take on rides like Steel Vengeance and Millennium Force, enjoy hauntingly good live entertainment, and devour fall-inspired food such as Oktoberfest pizza or spider and "not so poison apple" cupcakes at Cedar Point's HalloWeekends. Daytime activities are not so scary, but beware, things will get spooky when night falls. The park transforms from fun to fright with the opening of haunted mazes and scare zones. Groups of 15 or more can save on admission tickets and add on perks such as all-day drinks, a single meal deal, and more. If you want to dine as a group, consider Cedar Point's catering options. Don't want the fun to end? Extend your stay at one of Cedar Point's resorts and receive even more exclusive benefits. Bus parking is available for those arriving via motorcoach.
Be ready to be bewitched by all Shores & Islands Ohio has to offer. Looking for even more group ideas? Fall under the charm of our Group Tour Co-Op Partners. These businesses enjoy welcoming groups to the area and giving the best experience possible. Need help pulling together an itinerary with so much to choose from? Want to start thinking about ideas for next year? Reach out to Emma Melter at emma@shoresandislands.com or visit shoresandislands.com/groups for itinerary development and more.