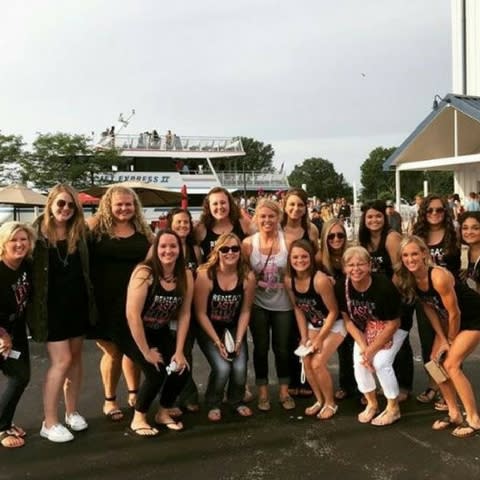 Updated April 2023
So you're getting married soon. Or maybe your bestie, sister, cousin, or coworker is – and you get to plan the bachelorette party and/or bridal shower. Shores & Islands Ohio in the ideal location to celebrate the upcoming nuptials with a girl's getaway weekend. Let your hair down and bond with your ladies with these four ideas for any bride-to-be:
1. High-flying Adventures…
…an action-packed weekend for the thrill-seeking crowd.
Start your weekend with a canopy tour and zip lining adventure over the gorgeous Vermilion River Valley. You'll all become very close as you lean on each other for encouragement while flying through the sky at Common Ground Canopy Tours. After, relax with drinks on the deck overlooking the Vermilion River at Quaker Steak & Lube.
Continue the thrill-seeking fun on Saturday with a trip to the Roller Coaster Capital of the World® - Cedar Point Amusement Park. Be sure to roll VIP-style with a Fast Lane pass so you can bypass the regular line. After a few hours of roller-coasting, enjoy some actual coasting with a kayak or paddle boat rental at the fantastic Cedar Point Beach. Or, continue the high-flying adventures with a birds-eye-view of the lake on a parasail from North Coast Parasail. Be sure to enjoy some snacks and beach drinks at T.G.I. Fridays on the beach or in the Surf Lounge. After a few more rounds of rides in the park and catching the nightly beach party, close out the day with food and fun at the Thirsty Pony.
2. Nothing but Class…
…for the gourmet food and wine lover with a passion for the arts.
Your ladies weekend is going to be first-class; nothing but the best for you and your gal pals. Meet up and start your fun with a tour and wine-tasting at Firelands Winery. After a few flights head into the onsite dining room and enjoy an exceptional meal. Finish the evening with a few more glasses on the patio and a round of bocce ball for a bit of friendly competition.
Saturday brings a shopping and gallery-hopping day. Begin in downtown Sandusky with a gourmet cappuccino or cold nitro brew to wake you up at Saucy Coffee. Next, shop the latest fashions and accessories at Fabulous Female Boutique. Keep an eye out for fabulous public art pieces around town. Hit up Crush Wine Bar for wines from around the world and tasty tapas. Head to the quaint village of Milan for more boutique shopping at D'Vine Design and grab some wine to take home at the Milan Wine Post. Close out the evening with a decadent dinner at Chez Francois in Vermilion.

Before saying goodbye on Sunday, take a road trip to Marblehead where you can check out amazing glass sculptures, and maybe even catch a glass-blowing demonstration, at Ferguson's Gallery. After you check out the Marblehead Lighthouse (because how can you not?), do a bit more shopping at The Pink Perch and Desdemona's.  After lunch at 1812 Food & Spirits, hit a few more shops in nearby Port Clinton. Pick up handmade candles and bath goodies at Northern Exposure Gallery & Candle Co. and get fabulous home décor at The Lake House. One thing is for sure, you won't go home empty-handed!
3. Ready to Chill…
…for the casual bride-to-be who just wants to unwind.
Let your hair down and enjoy all the perks of a weekend on the coast, combined with a bit of pampering. Start your weekend with a Friday Night Sandusky Bay Party Cruise on Goodtime I Lake Erie Cruises. For a more casual cruising experience, visit during the week for a wine-tasting or sunset bay cruise.
On Saturday you can chill at the beach with a relaxing morning at East Harbor State Park. Keep the beach-theme going with a laid-back lunch at Dock's Beach House or the Hidden Beach Bar. Spend the afternoon with the wind in your hair with a relaxing private sail on Lake Erie Sailing Charters or Catawba Cruising.
After a good night's sleep, treat-yo-self with a relaxing spa day at Spa Catawba or Spa Kalahari. Be sure to spoil the bride-to-be with the Safari Escape package – a relaxation massage, personalized facial, and spa pedicure. When you're nice and relaxed enjoy a mouthwatering burger at the B-Lux Bar & Grill at Kalahari Resorts & Conventions. Take home a yummy indulgence from the Candy Hut.
4. Paint the Town Red…
…for the girls who are always the life of the party.
It goes without saying that the Lake Erie islands (Put-in-Bay, Middle Bass, and Kelleys Island), are THE go-to spots for a good time. If you want a rollicking bachelorette party, book yourself a trip to one of these islands without delay.
Should you choose the seclusion of Middle Bass Island, fun can be found at St. Hazard's Resort and J.F. Walleyes, where there's even an outdoor pool patio. Consider visiting for the annual Middle Bass Island Music Festival in July which features great local bands and food trucks at the historic Lonz Winery outdoor pavilion.
If the casual vibe of Kelleys Island is calling, bring the party to the Village Pump for their famous Brandy Alexander. Check out the Sand Trap Tiki Bar at Caddy Shack Square. Make it a fiesta at KI Cantina or enjoy an amazing sunset view at Dockers or West Bay Inn.
Live it up at Put-in-Bay, with an island filled with great food and even better drinks. Catch live bands practically anywhere, like the Round House Bar or Boathouse Bar & Grill. Swim up to the bar at Splash! Relax with some boat drinks at The Keys or The Boardwalk. Swing with your feet in the sand at Mojito Bay Tiki Bar. Round out your weekend with Sunday Funday brunch at Frosty Bar or Pasquale's Café.
Half the fun is getting there and getting around, so be sure to check ferry and island transportation options.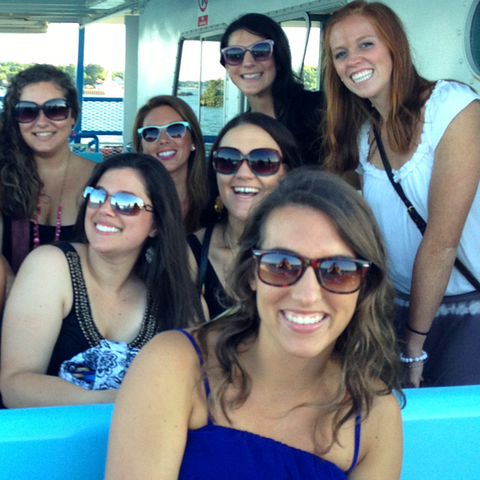 Need more girl getaway or bachelorette party ideas? A laid back lady might enjoy a weekend at bucolic Lakeside Chautauqua. Or rent out a lake cottage and spend the entire weekend in – have everyone bring food to share and just hang out. Short on time? Reserve a private space at a historical winery or restaurant for your one-day celebration. Whatever your bachelorette or ladies weekend style, the group sales team at Shores & Islands Ohio can help. Don't forget the Shores & Islands region is a great destination for guy's getaways or bachelor parties too!