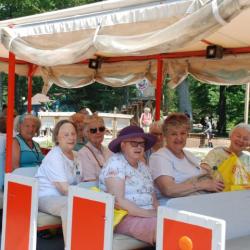 Sunshine and warm weather let us know summer is here and what better place to spend it than Shores & Islands Ohio? Groups of all sizes and ages can enjoy an island getaway right here on South Bass Island better known as Put-in-Bay – the village on the island. S&IO Social Media Manager, Dayton, and I were able to follow along with a senior citizens group on their day trip to the island.
This group chose to climb aboard the passenger-only Jet Express for a relaxing ride across the Lake Erie and disembarked in downtown Put-in-Bay. They enjoyed the views from the lower deck, as it was easier for them to navigate. Another ferry option is Miller Ferry. This 20-minute ride transports passengers and vehicles while docking on the southern point of the island. Both ferries offer group rates and bus parking.
Upon arrival, the group enjoyed a wonderful lunch at Boathouse Bar & Grill – one of the many eateries located downtown. From there, they spent a little time exploring the area and a few even took a ride on Kimerly's Carousel before boarding Island Transportation's tour train. Stops for this group included the Butterfly House and the Lake Erie Islands Historical Society Museum. The group enjoyed the scenery of the island tour and learning more of its history. One even claimed her favorite part was the Lake Erie Islands Historical Society Museum where they watched a video on Put-in-Bay's history before looking at all the different artifacts. Others favored the Butterfly House, as some new butterfly friends were made. Island Transportation offers multiple group packages including ferry tickets, a narrated tour on the tour train, and entrance fees to some of the most popular attractions on the island.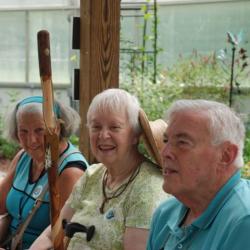 After our island adventure, the ride back to the mainland was a great way to end a great day! Ready to plan your group trip to Put-in-Bay? Want to make it a multiday trip? Check out our Group Tour Co-Op Partners who are ready to welcome your group for an extra special visit to Shores & Islands Ohio. Regardless of how long you stay, contact Emma Melter at emma@shoresandislands.com for planning assistance today!