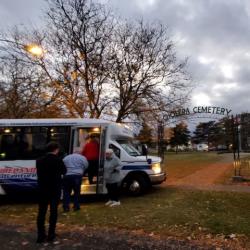 Welcome to October – officially Halloween season! Sure, there are lots of ways to get scared out of your gourd – Cedar Point's HalloWeekends evening events have been doing an amazing job for a quarter of a century! Ghostly Manor's Lake Eerie Fearfest offers maximum scares also, recently named one of Haunted Attraction Association's Top Haunts of 2023. But if you're more into the paranormal and spooky ghost stories, here are a few area events that will send shivers down your spine.
Haunted Driving Tour
Offered Thursday-Sunday evenings through October 29, the Haunted Sandusky Tour with Firelands Adventure Tours takes passengers to the shadowy side of Sandusky, where spirit-beings appear in buildings and store windows by using their energies to make themselves known. Tours depart from Jackson Street Pier and explore the spooky secrets of cemeteries, downtown streets and buildings, and the waterfront, led by Sandusky's "Grand Witch," Donna Bretz. Participants are encouraged to bring a camera to capture apparitions, orbs, or other strange occurrences which have been documented on past trips.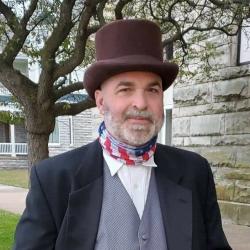 Cemetery Tours
What is spookier than walking among the buried? A number of area cemetery walking tours are scheduled this month. On October 5 and 7, learn about Sandusky's history of Brewers, Winemakers, and Cigar Makers with a guided tour through Oakland Cemetery. Vermilion's Brownhelm Cemetery is offering If Tombstone's Could Talk Cemetery Walk on October 8, which brings history to life with re-enactors telling the stories of the area's earliest pioneers. Port Clinton's Lakeview Cemetery is home to a Walking Tour on October 27 which will discuss the meanings of various gravestone symbols and significant individuals in Port Clinton history.
Ghost Walks
Hear the stories of curious sites, notable people, and the paranormal with a one-hour guided Downtown Sandusky Ghost Walk with paranormal investigator and local historian, Doug Hulett. Tours are offered on October 23 and 30 and depart from the Shores & Islands Ohio Welcome Center. Coffee, hot chocolate, and hot cider are served prior to the tour at the welcome center.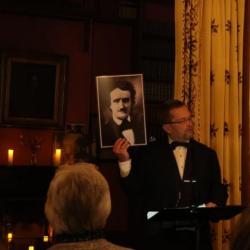 Spooky Readings and Author Talks
Hear real ghost stories with those who write about them! Vita Sandusky is hosting Victorian Ghost Stories on October 6. First, author and historian Joshua Rex will read from his book, Haunted Victorian America: Ghost Stories, followed by a dramatic performance of two classic works by Edgar Allan Poe. Speaking of Poe, no writer is more closely associated with the Halloween season – he was one of the earliest contributors to what eventually became the genre of science fiction. Enjoy a dramatic reading of some of his work set against the dark ambiance of a Victorian mansion when the Hayes Presidential Library and Museums hosts Poe in the Parlor on October 17 and 24. Join Shores & Islands Ohio on Friday the 13th for tales of creatures, ghosts, and other unexplained phenomena occurring for generations in Ohio. Authors Kevin Moore and Kristina Smith have parsed urban legends from history as they explore the unnatural side of our great state's heritage in their recent book, Unnatural Ohio: A History of Buckeye Cryptids, Legends & other Mysteries. Join us for Uncovering the Mysteries of Unnatural Ohio, where they will share spooky stories from their book, including local urban legends, Bigfoot sightings, and UFO encounters.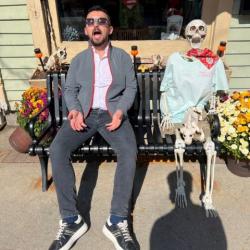 However you choose to enjoy the season of frights and fear, round it out with a little fun and light-heartedness. Visit the coastal community of Vermilion for Shake Rattle & Stroll, where local business adopt silly skeletons and other fun décor that you can enjoy in windows, stores, and storefronts, as well as some join-in-the-fun photo opportunities throughout downtown. Or, head the area's first and only Halloween pop-up bar, the Spooky Coop at Ørchard Farm Stand in Catawba for some crazy cool decorations and crazy creative mixed drinks! Happy haunting!