Published March 2022
A One Day Group Tour Itinerary
Motorcoach and other group tours visiting Shores & Islands Ohio are often interested in historically-themed itineraries, suitable for groups of all ages, and including unique features of the region, with group-appropriate stops and tours. Did you know Sandusky, Ohio has numerous ties to the Underground Railroad movement?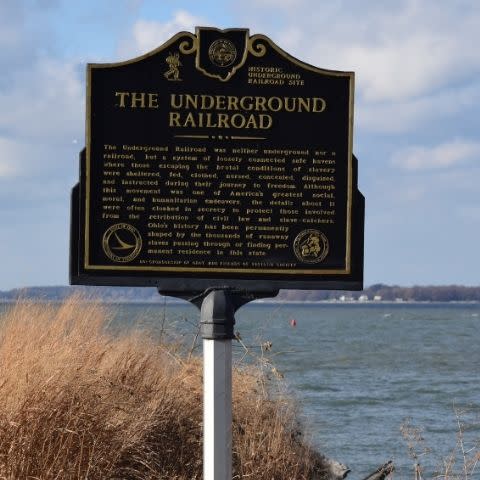 The term, Underground Railroad, refers to the network of people and locations where enslaved people seeking freedom could find safe haven during the mid-19th century. The region's flat topography with no hills and few ravines enabled runaways to quickly reach Sandusky Bay where they hoped for passage across Lake Erie into Canada. The city of Sandusky has many private homes and businesses that were considered safe houses and citizens who were vital to the movement. Sandusky was a major terminal and was known by the code name, "Hope."
Here, we offer a one-day tour itinerary which includes educational stops where participants can learn and experience first-hand some of this history. For leisure guests or smaller groups, the Shores & Islands welcome centers offer a brochure and map for self-exploration and the Erie County Historical Society offers a walking tour of these and many other sites with maps, directions, and stories of the people and places included.
Stop 1 – Maritime Museum of Sandusky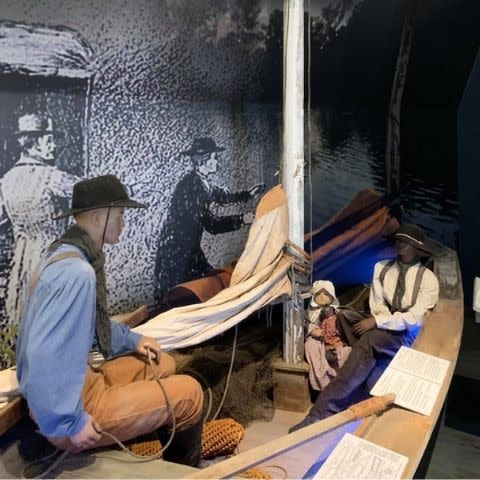 A great starting point for any tour of the Sandusky region is the Maritime Museum of Sandusky. This museum focuses on the rich maritime history of the Sandusky Bay area through interactive exhibits on ice harvesting, shipwrecks, boatbuilding, wetlands, passenger boats, and more. Group tours begin with a 15-minute film detailing area history that is a fantastic introduction to the area and its history. The museum features an extensive exhibit on the Underground Railroad and Sandusky's role in it. Learn the struggles of freedom seekers who crossed Lake Erie during that time.
Stop 2 – Facer Park
At the foot of Hancock Street at Shoreline Drive, sits beautiful Facer Park with its remarkably poignant "Path to Freedom" sculpture. This piece by local sculptor Susan Schultz is a symbolic representation of fearless people escaping the chains of enslavement. Drop the group off at this park where they can learn more about Sandusky's role in the movement. The sculpture is surrounded by pedestal displays which attempt to capture the history of the men and women who wrote Sandusky's Underground Railroad story through their courageous actions. The park also includes benches to rest, as well as a shaded gazebo, and beautiful flower gardens.
Stop 3 – Shoreline Park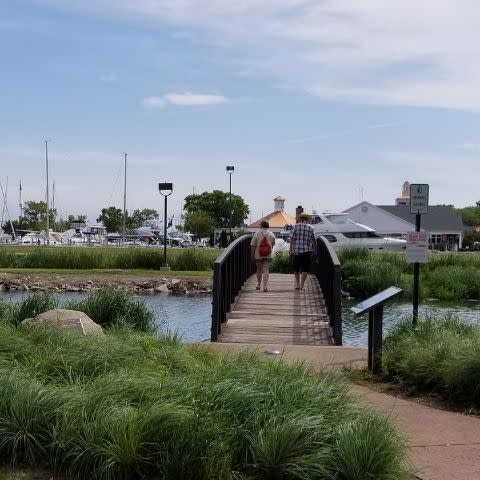 Your group can either walk down the street or board the bus for a very short drive to the lovely waterfront Shoreline Park. This public park features a large picnic pavilion suitable for a group lunch. The onsite Great Lakes Grinders offers a seasonal take-out restaurant featuring delicious sub sandwiches, or grinders. Or, pre-arrange for a boxed lunch from one of downtown Sandusky's many eateries, including the Goodtime Café, Landmark Kitchen and Bar, Vita market and bistro, Mr. Smith's Coffeehouse, and others. After dining, enjoy a leisurely stroll around the park's former docks with connecting pedestrian bridges for spectacular views of Sandusky Bay and Cedar Point.
Drive by – Sloane House, Joseph Root House
Board the bus for a short driving tour by some significant homes, instrumental to the movement. First, the Rush R. Sloane house, currently unoccupied and listed for sale as a historical Bed & Breakfast. This 1854 home is on the National Historic Register and has been completely restored and refurbished with period furnishings. Rush Sloane was a noted abolitionist, attorney, and Mayor of Sandusky. After allowing some freedom seekers attempting to escape on a steamer ship to be released, Sloane was tried and found guilty under the 1850 Fugitive Slave Act and fined over $3,000. Friends and sympathizers contributed funds to pay his fine and a delegation from the local African-American freeborn Sanduskians presented him with a silver-headed cane, which is on display at the Follett House Museum of Sandusky Library. You'll also pass the Joseph M. Root house. Root was a radical abolitionist and likewise an attorney and Mayor of Sandusky, who also served as a state senator and U.S. congressman.
Stop 4 – Follett House Museum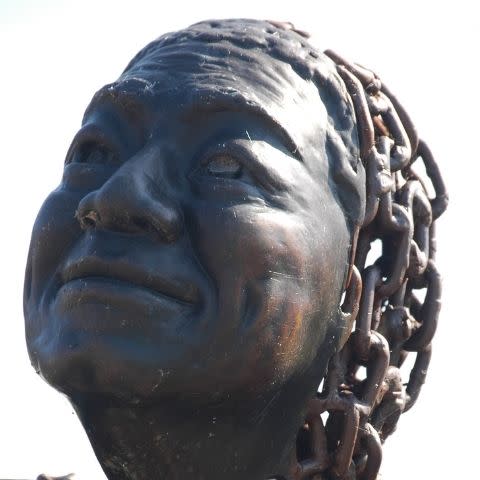 Next stop is the Follett House Museum, operated by the Sandusky Library and in the former home of Oran and Eliza Follett. Follett was the publisher of the Lincoln-Douglas Debates and his wife, Eliza, was sympathetic to escaping enslaved people. She concealed many runaways in the basement or woodshed and aided them in their eventual escape across Lake Erie. The museum includes exhibits on Sandusky's history from before the War of 1812 through the Civil War era, and to the present on four floors filled with artifacts.
Drive by – Second Baptist Church, Beecher House
Continue the driving tour past a couple more important sites in town. The Second Baptist Church was founded in 1849 as Zion Baptist Church by a group of seven former enslaved people and freeborn blacks. It was also known, prior to the Civil War, as the First Regular Anti-Slavery Baptist Church. The church was an active "station" in Sandusky and many freedom seekers were hidden, fed, and clothed here. The present-day church is constructed around the original church's wooden framework, and along with the adjacent parsonage, is listed on the National Register of Historic Places. Next you can observe the Lucas S. Beecher home, now an investment and financial services business. Beecher was a local attorney who was not afraid to represent runaways, agents, or conductors in his practice. Lucas was also third cousin to famed author Harriet Beecher Stowe, writer of Uncle Tom's Cabin, a fictional account of enslavement based on facts. The dock at the foot of Sandusky's Columbus Avenue is described in the book in a scene which recounts the story of Eliza Harris who, in order to get past the slave catchers, cuts her hair and dresses as a man, dresses her son as a girl, and successfully escapes on the steamship Arrow without detection.
Stop 5 – Jackson Street Pier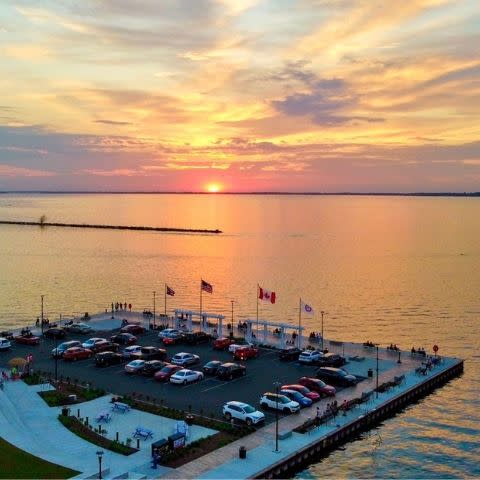 The final stop on the tour is Sandusky's famed Jackson Street Pier. This popular and inviting space welcomes your group to enjoy the Sandusky Bay waterfront. There is seating, including benches and swings, bistro tables for outdoor dining, and the welcoming sunset steps. In season, a stage offers regular live entertainment and the Mylander Pavilion hosts covered markets and is also available for group rental. As a final tie to the Underground Railroad history, this spot is between the dock described by Stowe in Uncle Tom's Cabin and the "Big Four" dock at the foot of Lawrence Street where many "fugitives" came in by actual rail car and escaped via abolitionist boats. From here you can allow your passengers to enjoy a bit of free time to enjoy the pier, grab a snack, or head into downtown for shopping and additional sightseeing. Plan to meet for dinner at one of many downtown Sandusky restaurants before departing. Or, extend your tour itinerary additional days by boarding the Jet Express ferry to either Kelleys Island or Put-in-Bay.