Many northern Ohio schools returned to learning this week. But, according to the calendar, summer isn't over until Septe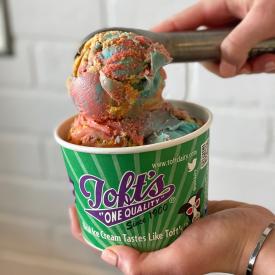 mber 22nd. Don't let summer slip away without a few more sips of sunshine, splashes in the lake, and fun on the shore. Here is your Shores & Islands Ohio end-of-summer to-do list:
Eat Ice Cream – I scream, you scream…okay everybody screams for ice cream! And summertime is the perfect time for this cold and tasty treat. Trying fresh from the farm goodness is on the menu when you go to Toft Dairy, Ohio's oldest dairy. The original parlor location on Venice Rd. in Sandusky serves up more than 50 flavors. But Toft's is such a regional favorite you can also get it at several other local places, such as Granny Joe's Ice Creamatorium, Doughin' Crazy, and Toft's on 250. Grab a flurry or a sundae from Dairy Isle, DQ Grill & Chill, or Miller's Drive In. Or, try something a little different with some gelato at Vine & Olive or Brown Dog Gelato Co.
Go to a Community Festival – Festival season in Shores & Islands Ohio is just getting started. There are still several opportunities to walk a midway, grab grub from a local food truck, visit vendors, play games, and enjoy the small-town charm of a local festival. Don't miss the Marblehead Perch Fest August 27, Milan Melon Festival on Labor Day Weekend, Elmore's Grub & Suds on September 10, the Kelleys Island Wine & Art Faire September 17, and more. See the events calendar for more ideas.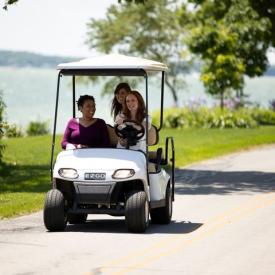 Put an Island in your Life – Still haven't been to the islands yet this summer? Don't despair – the ferries are still running, most everything is still open, and this is actually quite a fantastic time to visit! If you can, go mid-week to avoid the crowds that weekend events attract. You'll still have a great time touring Put-in-Bay, Middle Bass, or Kelleys Island via golf cart or bicycle. There are plenty of delicious dining options on each island. And, the views are unmatched! Find a quiet spot near the shore to soak up every last bit of summer-on-an-island vibes.
Go to an Outdoor Concert – Sandusky's Party at the Pier and Port Clinton's Music on Madison continue with regular outdoor concerts well into September. Celebrate American Blues music at the family-friendly Put-in-Bay Music Festival on September 17 featuring a great line-up of blues bands.  Be sure to follow our Live Entertainment calendar for where and when you can find all your favorite local acts.
Sleep under the Stars – Nostalgic for those days of summer camp as a kid? Summer is the perfect time to enjoy the great outdoors with campgrounds that offer everything from lakefront sites, shady trees and trails, children's programming, and recreational opportunities. If you're a regular camper, get one last summer getaway in. If you're new to camping, check out our Camping in Shores & Islands Ohio blog.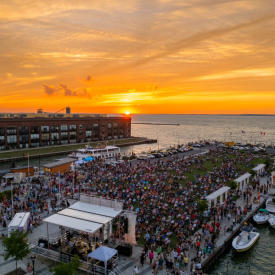 Get on a Boat – The fish are moving further east, but great catches are still out there if you'd like to try your hand on a fishing charter. If floating is more your speed than fishing, consider chartering a pleasure cruise with Lake Erie Sailing Charters, Sandusky Sailing Center,  Powerplay Yacht Charters, or Catawba Cruising. Or join a fun public cruise with Goodtime Lake Erie Island Cruises. Goodtime I is offering two last sunset cruises August 30 and 31 and will be running Browns tailgating cruises to Kelleys Island throughout September and October. Take a scenic river cruise in Vermilion with the Mystic Belle, available through Labor Day. Of course, the easiest route to riding a boat is to ferry to one of the islands!
Late August through September is a great time to visit Shores & Islands Ohio! Lodging availability is plentiful and prices are affordable. It'll be fall before you know it (which, of course, brings a whole new season of fun to the region.) Plan your getaway today and savor the summer!