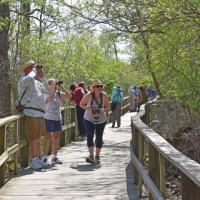 Spring is often thought of as a time of rebirth or reawakening. With events like the Biggest Week in American Birding and the reopening of many seasonal businesses in the area, Shores & Islands Ohio is truly blossoming once again. Our group services team is here to help you plan group excursions that will have you feeling rejuvenated and connected with nature.
See the flowers in bloom at Schedel Arboretum & Gardens. This 17-acre arboretum is a hidden treasure in Elmore featuring a Japanese garden, a kitchen garden with many varieties of ornamental hot peppers, a world class bonsai collection, water gardens, perennial gardens, an outstanding collection of rare and unusual trees and shrubs, and dozens of flower gardens showcasing almost 10,000 annuals. It is also the permanent home of the Blair Museum of Lithophanes in the manor house. Also found throughout the grounds are unique and lovely sculptures, while the Brown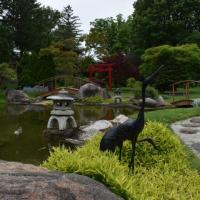 Welcome Center showcases artwork done by a local artist. The welcome center is home to the Veh Conference Room, which can be used for meetings, showers, and luncheons for up to 90 people. The gardens offer parking for motorcoaches and group discounts when scheduled in advance.
Ready to shake off the winter blues and get a little wild? African Safari Wildlife Park is the cure. With bus parking and discounted group tickets available when purchased in advance, get ready for your group to meet the exotic animals of the park. Learn more about them through the edZOOcational programs put on at the Education Pavilion. The Drive-Thru Safari showcases animals such as deer, bison, zebras, and even giraffes. As part of the Walk-Thru Safari, you can meet many species of birds, the Eastern Bongo, and the Patagonian Cavy. Special animal encounters are offered as well – your group can participate in the Aviary Adventure, Giraffe Encounter, or experience a camel ride. Before leaving, don't
forget to say "see you later, alligator" to Jewel, the albino American Alligator.
It's time to celebrate – Lakeside Chautauqua's 150th anniversary that is! Welcoming groups since its start in 1873, this gated community was founded on the principles of religion, arts and entertainment, recreation, and education, and keeps those traditions alive today. Groups enjoy the historic charm of Lakeside with its variety of programming for concerts and shows, the arts, recreational activities on land and lake, and educational and spiritual discussions and lectures. For a calendar of events visit lakesideohio.com. Learn more about its history by reading Lakeside Chautauqua and the Chautauqua Movement of the late 19th Century – Visit Shores & Islands Ohio's Own Historic Chautauqua Community.
While there are many options in Shores & Islands Ohio available to put a spring in your step this season, we recommend working with any of our Group Tour Co-Op Partners, who go above and beyond to make sure fantastic memories are made by each group! For more information on group travel any time of the year, contact tiffany@shoresandislands.com or visit shoresandislands.com/groups.