Published July 2021
Just 20 minutes south of Lake Erie sits the quiet, welcoming community of Bellevue. Surprisingly, this small town is full of hidden gems to enhance your Shores & Islands getaway. So, take a break from the lake and see what Bellevue has to offer for family fun and interesting sights.
Family Fun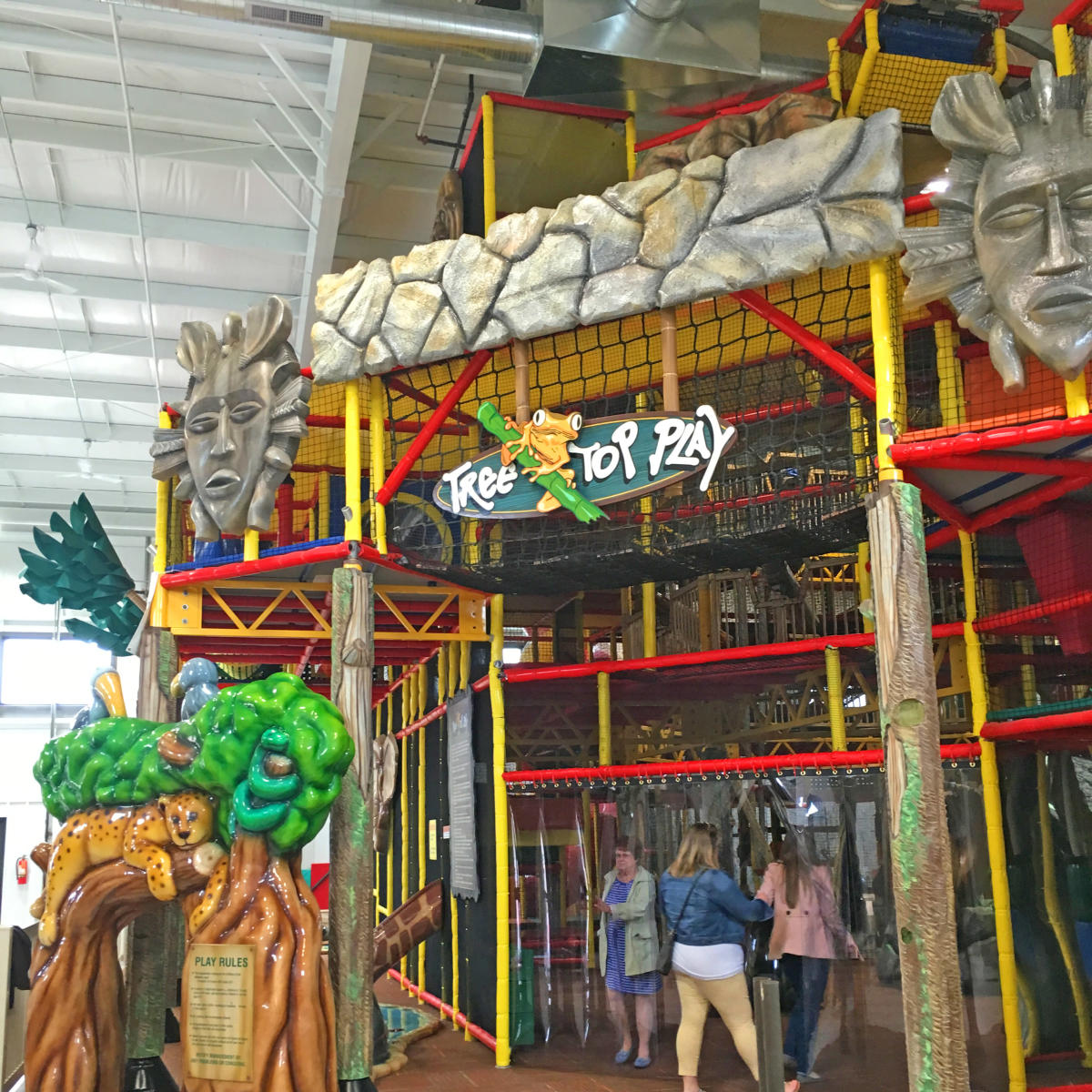 Jungle Junction – Families with younger kids are thrilled to learn that Bellevue is home to Ohio's largest indoor playground! Six levels of adventure with over 60 play features like slides, air cannons, obstacle courses, and interactive game panels keep kids under 12 entertained and challenged with hours of fun.
Seneca Caverns – Looking for a cool underground adventure? Seneca Caverns is a Registered Natural Landmark and is preserved close to its natural state. Welcoming tours for nearly 90 years, enjoy natural stone steps and pathways through the geological wonder known as the "Earth Crack." A one-hour guided tour includes seven levels, the lowest of which at 110 feet below the surface features views of Ole Mist'ry River, an underground stream.
Blast from the Past
Mad River & NKP Railroad Museum – Rail fans already know Bellevue is known as "Train Town" for its railroad history, large rail yard, and multiple mainlines. The Mad River & NKP Railroad Museum is Ohio's largest museum dedicated to trains. It features several engines, buildings, freight and passenger cars, and cabooses which can be boarded and are filled with displays depicting railroad history.
Historic Lyme Village – This 19th-century village includes 16 buildings to tour including an 1880s Victorian mansion, an 1836 farm home, log homes, barns, a one-room school, and general store, and more. The village also includes the Schug Hardware Museum and the National Postmark Collectors Museum and Research Center. Additionally, it is known to host Civil War reenactments, pioneer days, and Victorian holiday celebrations.
Support the Arts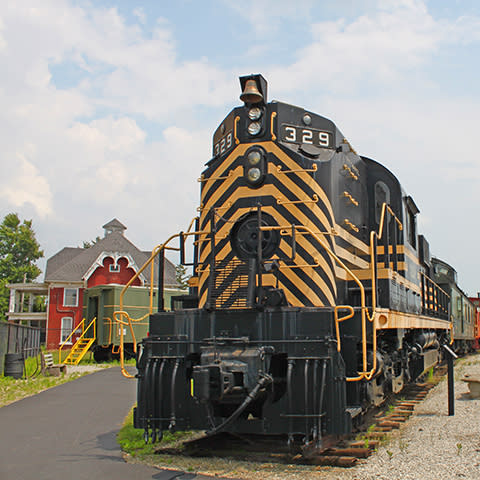 Art@106 – Home of the Bellevue Artists Guild, this lovely store, workshop, and gallery features over 20 artists showing and selling paintings, drawings, photos, graphic art, woodwork, glass, pottery, jewelry, and fabric arts pieces. Classes are offered in watercolor, pottery, and acrylic.
Bellevue Society for the Arts – Promoting the arts through appreciation, education, and participation, the Bellevue Society for the Arts performs a variety of theatrical shows in its home at the Hirt Theatre. The theatre seats more than 300 for traditional shows and also offers space for a 200-guest dinner theatre. Productions include community musical productions, children's, tween, and teen theatre. The onsite School of the Arts offers vocal and musical instrument lessons.
Quiet Serenity
Sorrowful Mother Shrine – A peaceful place for contemplation, the Sorrowful Mother Shrine welcomes guests of all faiths to visit and reflect. The property includes 120 acres of wooded walkways as well as paved grottos and over 40 points of interest, including an outdoor Stations of the Cross. The Shrine Chapel, plus an open-air chapel and religious gift shop are also onsite. Catholic Mass is held daily, with two services offered on Sunday.
Treats & Eats
Amsden House Restaurant – Named for Amsden Corners, the name Bellevue settlers originally gave the town in 1815, this breakfast and lunch diner is a favorite among locals and visitors. Home of the "trash potatoes" and delicious homemade soups, it's sure to be on of your favorites too.
Copper Top Bake Shop – This hometown bakery and coffee shop offers a welcoming atmosphere and features fresh-made donuts, pastries, and breads along with desserts such as cookies, cakes, and pies. Barista-blended coffee, lattes, frappes, and teas are available along with breakfast foods such as egg paninis and wraps, French toast, and biscuits & gravy. Lunch includes soups, salads, and sandwiches. A local vendors display sells local honey, mugs, spice rubs, and more.
Miller's Drive In – Locally owned and operated for more than 35 years, Miller's Drive in is known for its homemade ice creams and full soda fountain service. The eatery features perch sandwiches and dinners, a variety of burgers and sandwiches, and other tasty treats. Miller's offers drive-through and window carry-out service with outdoor picnic seating.
Ready to see what Bellevue is all about? For more information on things to do and places to visit, check out the Bellevue Area Tourism & Visitors Bureau.