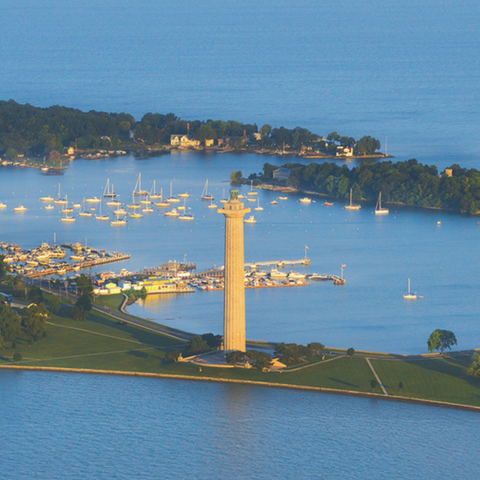 Updated September 2021
Every great getaway includes some major Insta-worthy moments. When a picture is good enough to be posted on Instagram, or for that matter any social media platform, it evokes an emotion. The emotion could be envy, inspiration, or even just "wow!" Shores & Islands Ohio is full of "wow" moments, from serene natural beauty to exhilarating adventures and everything in between. Do you want to make an impression online? Here, wanderlust-inducing photo ops abound. Photograph these ten iconic locations for lots of likes!
Perry's Victory & International Peace Memorial, Put-in-Bay – Visit this National Park monument, the third-tallest in the nation, and go to the observation deck 317-feet in the sky. The views from here are amazing, overlooking the island below and other Lake Erie islands in the distance.
Front entrance gate at Cedar Point, Sandusky – No day at the park is complete without the obligatory "we've arrived" photo at the front gate. You will be welcomed by GateKeeper, the aptly-named winged coaster which soars through two narrow towers just above the entrance turnstiles. This record-breaking thrill ride will immediately get your heart pumping for the fun ahead. How's that for a great first impression?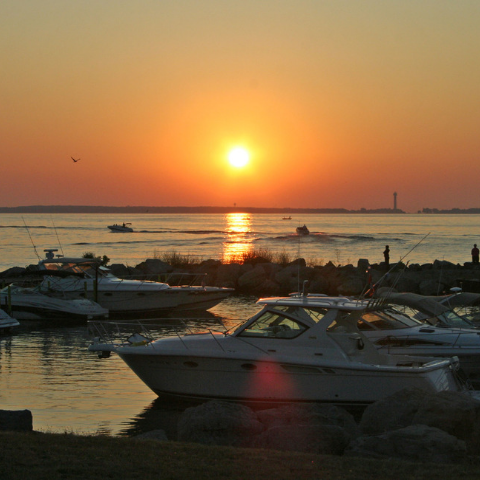 <
Glacial Grooves, Kelleys Island – A site not-to-be-missed on any visit to Kelleys Island is the world's largest example of glacial scoring, formed more than 18,000 years ago during the Ice Age. These earth formations were discovered in 1892 while quarrying the island's limestone. A National Natural Landmark, the Glacial Grooves feature a fenced observation area where you can walk around and cross over the grooves. A selfie on the bridge traversing the landmark would be "groovy!"
Inside Crystal Cave, Put-in-Bay – Crystal Cave, adjacent to Heineman's Winery, is a must-see as it is the world's largest celestite geode. How cool is it to be standing inside a gemstone-lined hole in the earth? The rock formations lining the walls of the cave are blue-green crystals, as if you broke open a giant rock and stepped inside.
Marblehead Lighthouse, Marblehead – No matter the season, the Marblehead Lighthouse is a much-loved location to photograph. In fact, it's the most photographed lighthouse on the Great Lakes! No wonder, as this welcoming beacon also features a fantastic park area and rocky shoreline for viewing other area sites such as Cedar Point and the islands. During the summer and early fall visit the lighthouse and climb the 77 steps to the top for sweeping panoramic views.
Sunset from West Bay, Kelleys Island – West Bay Inn Restaurant on the west end of Kelleys Island is well-known as THE island spot for catching amazing sunset views. The eatery features both indoor seating and an amazing outdoor deck with plenty of seating for soaking up those last fleeting moments of sunshine.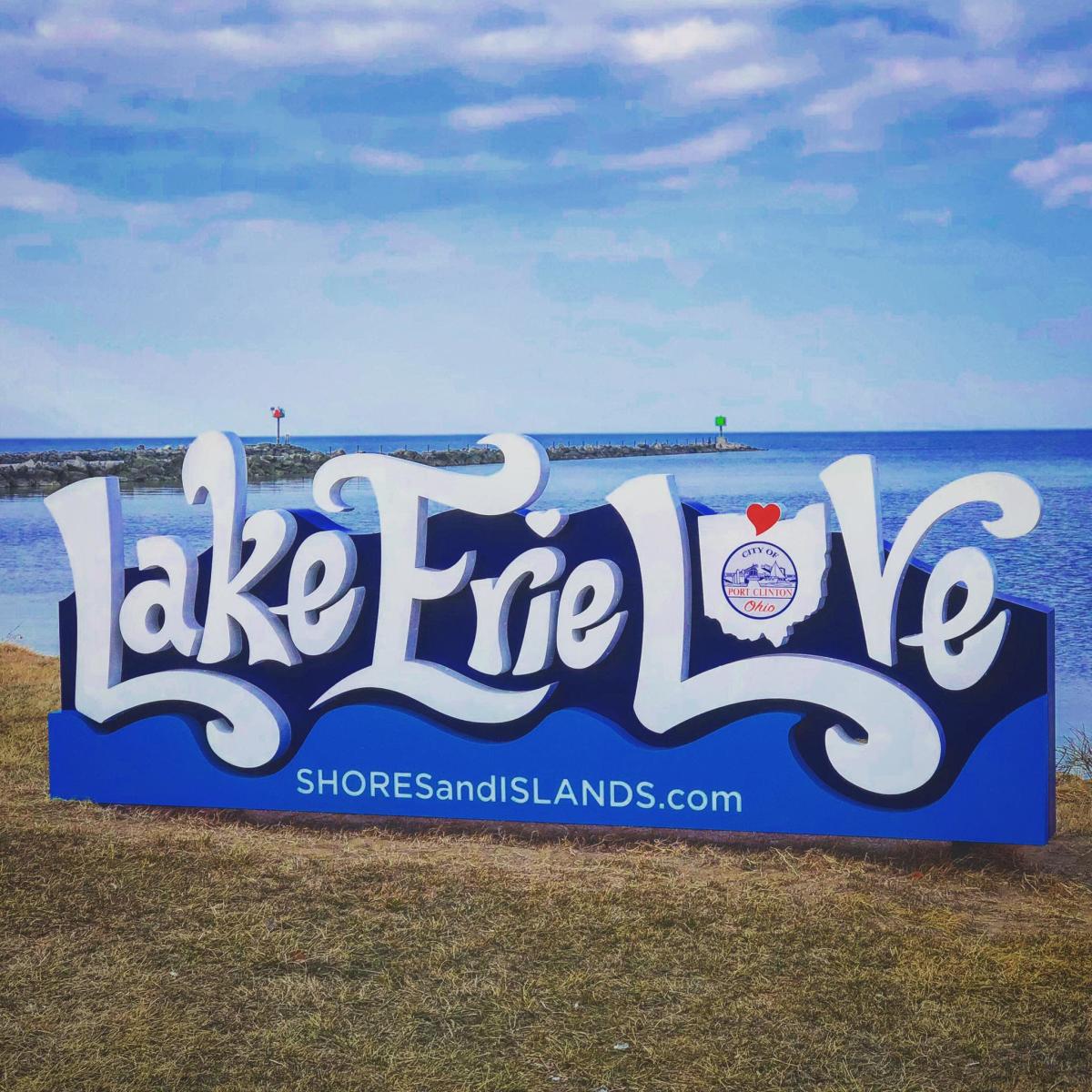 Lake Erie, Love signs, Nickel Plate Beach, Huron and Waterworks Park, Port Clinton – These larger-than-life signs really show your Lake Erie Love to the world. Designed for selfies, group photos, and fun souvenirs, these photo ops will show your friends and family exactly where you are and how much you love it. Both signs are located along the water to show our beautiful lake as well.
Say "Hey" to Wylie Walleye, Sr., Lake Erie Shores & Islands Welcome Center, Port Clinton – In the Walleye Capital of the World, it's fitting that you would want a photo with an enormous fiberglass fish. For 20 years the fish now affectionately known as Wylie, Sr. reined over the New Year's Eve Walleye Drop in downtown Port Clinton. In 2018, a new Wylie debuted and the former star of the show now appears around the area in parades and at events. When he's not out-and-about, you can "catch" him in front of the Welcome Center.
Main Street Beach, Vermilion – This lovely beach in a coastal community boasts several unique sites and amenities. Fun rentals, such as giant beach umbrellas, are available on site in-season. An observation deck with seating makes the view overlooking the beach easy to photograph. The lovely Vermilion Lighthouse adds something extra to your beach pic. Main Street Beach is another great place to catch a gorgeous Lake Erie sunset.
"Greetings from" murals, Port Clinton and Vermilion – These larger-than-life art installations painted on the outside of buildings, literally are meant to welcome you to our destination in the style of an old-fashioned post card. In Port Clinton, this mural is located on the west-facing wall of the Clinton House Restaurant downtown and is a popular selfie spot. Vermilion has the Postcard Project, featuring 15 mural-sized vintage postcard paintings. The "Greetings from" postcard is located on the south-facing exterior of Tiffany's  Flowers & Gifts on Main St.
Where will you find your Insta-worthy moment? Be sure to share your photos using the hashtags #LakeErieLove and #ThisisCoasting and your image could be featured at SHORESandISLANDS.com or shared on our Instagram!