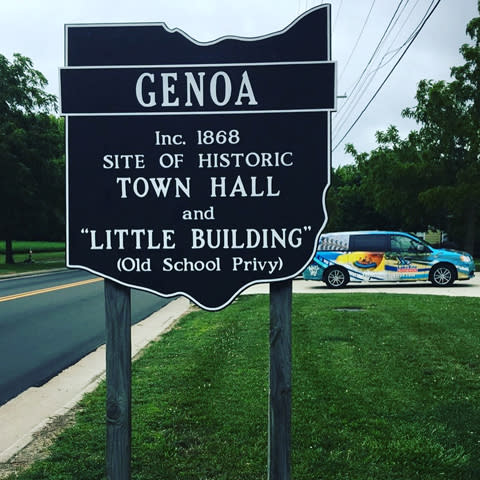 On Tuesdays this summer, we are exploring the great cities and towns that make up Ohio's Lake Erie Shores & Islands for #TravelTuesday. Don't miss our previous #TravelTuesday posts – to-date we have visited Vermilion, Middle Bass Island, Lakeside Chautauqua, Milan, Kelleys Island, Huron, Put-in-Bay on South Bass Island, Castalia/Bay View, and the village of Marblehead. This week we were able to fit in two more of our smaller communities, the riverfront village of Elmore and the historic town of Genoa. Here's a quick look at some of the places we explored.

Information Resources 
Chamber of Commerce – If you are looking for historic sites and beautiful gardens, then Elmore is the place for you. This village is home to Schedel Arboretum & Gardens and has a charming small-town atmosphere. Several historic landmarks, some registered on the National Register of Historic Places, await visitors to Genoa. Explore delightful shops and the rich heritage of this one-of-a-kind town.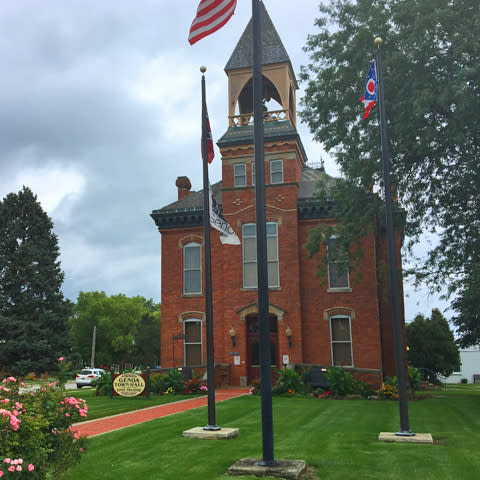 Play
Historical/Educational – The Genoa Town Hall, which houses the Genoa Civic Theatre on its second floor, is a delight for architectural and historical buffs alike. Whether appreciative of the historic significance of the municipality being governed in this building for more than 120 years; or the picturesque grandeur of this restored structure, the Town Hall is an awe-inspiring sight to behold! Listed in the National Register of Historic Places, the Historic Town Hall is considered the oldest free-standing municipal building in Ottawa County.

A very unique historic building can be found in Genoa! The Old School Privy is an historic outhouse. Constructed in the 1870s, it has the unusual distinction of being both a public toilet and an official historic site. Though not currently in service, you can view the brick exterior of the building and its high-style Romanesque Revival architecture, quite fine for the time and the humble purpose of the building.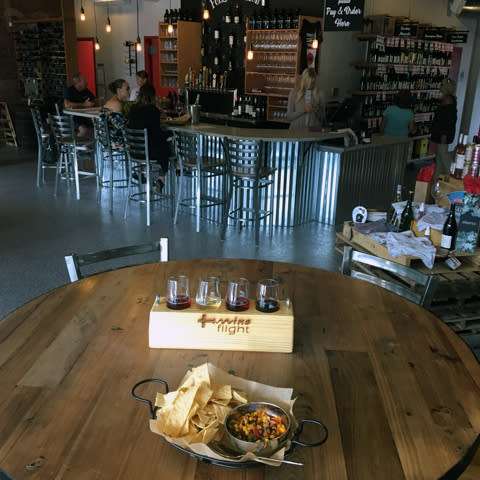 Wine Tasting – Recently opened in the heart of Elmore's quaint downtown, Wine Flight is a unique experience in wine, as well as craft beer and small plates. Sample an assortment of meats and cheeses, a variety of hummus and salsa, or create your own s'mores. Indoor seating and an outdoor patio allow for wine and beer tastings along with visiting with friends. A four-tasting flight can be purchased or sample by the glass. Enjoy shopping for wines for every taste and need – be sure to check out the tasting notes for such fun lines as "pairs well with watching your child's double-header, " or "great for a first date." You can also build your own six-pack-to-go of craft beer from all over the world. Let adventure take flight!

Explore
Outdoor Recreation – Take a self-guided tour of Schedel Arboretum and Gardens, a 17-acre hidden treasure with unparalleled beauty and tranquility. The gardens include a unique Japanese garden, a kitchen garden with more than 80 varieties of ornamental hot peppers, a bonsai collection, water gardens, perennial gardens, and dozens of flower gardens featuring 13,000 annuals. The arboretum hosts several special events throughout the year and offers lunch on a deck overlooking the gardens during the summer season.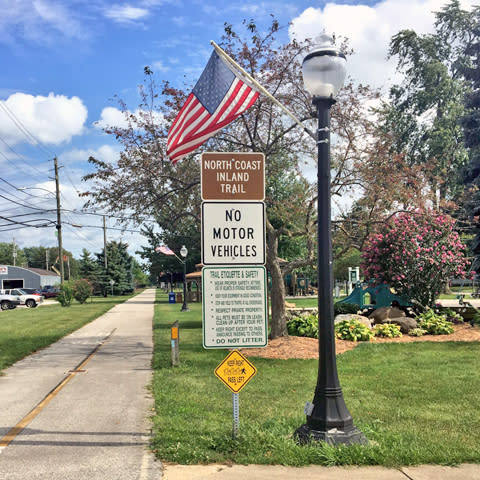 Ready to ride? The North Coast Inland Trail (Ottawa County) is one segment of a system of bicycle trails in the North Coast Inland chain. Other segments include Lorain County, Huron County, and Sandusky County. A highlight along this particular segment is the Portage River Bridge crossing in Elmore. According to future plans, The North Coast Inland Trail will eventually span Ohio and connect to three additional states: Indiana, Michigan, and Pennsylvania.

Veterans Memorial Park is a 30-acre park facility including four baseball fields, two tennis courts, two basketball courts, an in-line skating court, and a separate swimming facility – The Genoa Quarry. This spring-fed "water hole", spans nearly a quarter mile around and is 100 feet deep in some parts. This watering hole has been welcoming swimming guests for generations and is now manned by licensed lifeguards from Memorial Day to Labor Day. A nearby ice cream hut offers refreshments.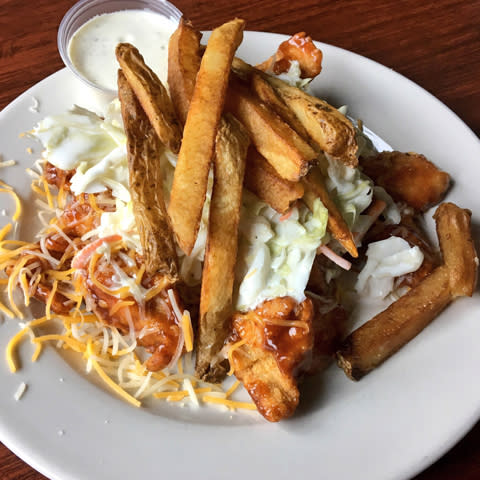 Eat
If you've been following our #TravelTuesday adventures, you may remember our lunch at Rayz on the Bay when we visited Bay View. Well, we discovered that they also have a location in Genoa, known as Rayz Café, so we had to try it. Take advantage of their daily specials; Tuesday is 'Buy one Chicken Ball get one 1/2 off of equal or less value'. So we ordered Comet Balls, chicken balls covered in your choice of sauce topped with coleslaw, cheese and fries, and Mushy Balls, smothered in mushrooms and cheese. For a slightly healthier option, try their grilled chicken salad with your favorite sauce topping!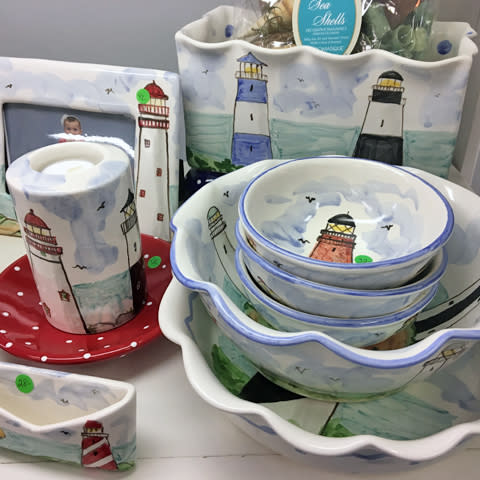 Shop
Packer Creek Pottery is a must-stop on your on exploration of Genoa. It features beautiful, handmade pottery crafted in Genoa for over 35 years! In the gallery, discover thousands of colorful creations proudly displayed along with a unique and fun experience through unrivaled customer service. In addition to the products in the gallery, they offer custom pottery orders of all sizes
for events, corporate gifts, and many other individual needs.
Though we didn't have time to do much shopping, Elmore and Genoa do offer a variety of experiences including antiques, pharmacy, coffee shops, gifts, and boutique clothing.
These communities offer several special events throughout the year including Genoa Homecoming, performances (in-season) at the Genoa Civic Theatre, Grub 'N Suds and the Portage River Festival in Elmore – and Count Krumnow's Tombstone Derby held each year in October. Don't miss small-town charm at its best; visit Genoa and Elmore!